Wales Drama Award
Winning the inaugural Wales Drama Award in 2012 was an exciting turning point in my career, raising my profile and presenting me with several new opportunities and possibilities.

Katherine Chandler
The biennial Wales Drama Award is both a celebration of writers in Wales and an open call to Welsh talent, whether emerging or established.
William Smith, the winner of the 2016 Wales Drama Award with the judging panel
The Wales Drama Award 2016
William Smith is the winner of the Wales Drama Award 2016, it was announced at a ceremony held on 22nd November 2016 at Yr Hen Lyfrgell in Cardiff. He will receive £10,000 and the opportunity to develop his work with BBC Cymru Wales, BBC Writersroom and National Theatre Wales.
Swansea-born William graduated from the University of Wales, Newport with a degree in Film Studies in 2010. Since graduating he wrote the short film King of The Castle, which was made as part of the It's My Shout scheme and broadcast on BBC2 Wales in 2011, and Lift Jockeys, a short film produced in 2014. In addition to writing in his spare time, he's previously worked as a producer and presenter for Radio Cardiff, as well as an office administrator. He now lives in Cardiff.
The three other finalists for the 2016 award were Hardey Speight, Jonathan Jones and Bethan Marlow.
Over 250 writers, either born or based in Wales, submitted their work in July 2016, from which BBC Writersoom along with input from professional television and theatre readers drew up a shortlist of eight. From these eight writers four finalists were selected by a panel of judges, including Julie Gardner MBE, producer and co-founder of Bad Wolf, Kully Thiarai, Artistic Director of National Theatre Wales, Anne Edyvean, Head of BBC Writersoom and Bethan Jones, Executive Producer BBC Drama.
Anne Edyvean from BBC Writersroom, said: "William's writing keeps you turning the pages - hooked in by skilled storytelling and great visual images. William is drawn to telling stories set in worlds that are in some way different to our own, but familiar enough to resonate with the audience - his settings are often 'What if......?'"
Bethan Jones, Executive Producer for BBC Drama said: "This award is a way to ensure writers are able to afford to carve out time to write and have support to develop their work. It's great to be able to support William Smith's huge potential. But it also draws the industry's attention to the potential of other voices, the shortlisted winners as well as others who didn't quite make it through the process."
Kully Thiarai, Artistic Director of National Theatre Wales, said: "William is a wonderful storyteller who clearly has a passion for, and a commitment to, writing rich and complex characters and narratives. He is undoubtedly a talent to watch. It will be very exciting to see what he goes on to produce, and how his win will inspire other writers in Wales in the future."
Julie Gardner MBE, producer and co-founder of Bad Wolf, said: "William Smith's RESIDUE is a compelling study of two teens' battle for survival in a post-apocalyptic world. The landscape is often domestic and recognisable and so the terror and danger are all the more potent. William weaves an often exciting, yet emotional tale. A genre piece with a twist!"
Watch William Smith's reaction to his win on our Facebook page
Meet the Wales Drama Award 2016 Finalists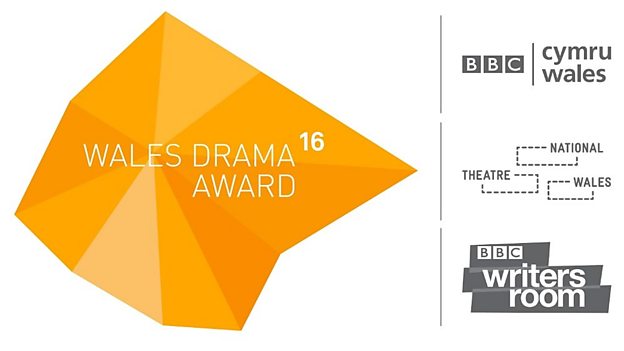 2014 Wales Drama Award Winner: Kelly Jones
Pictured: Kate Rowland, Kelly Jones, Faith Penhale, John McGrath
Kelly Jones from Cardiff was awarded the Wales Drama Award 2014 at a ceremony in December 2014 in BBC Cymru Wales' Roath Lock drama studios, Cardiff Bay. Kelly was presented with the award by Kate Rowland (BBC Writersroom), Faith Penhale (BBC Cymru Wales' Head of Drama) and John McGrath (Artistic Director of National Theatre Wales).
Read Kelly's blog for us on her journey to winning the Wales Drama Award
Wales Drama Award 2014 - Finalists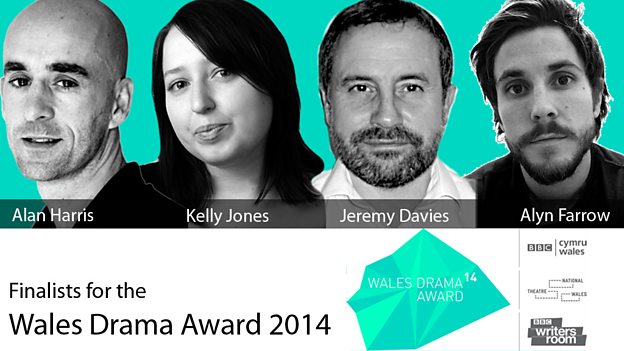 Winner Kelly Jones and the 3 finalists explain why they entered and describe their shortlisted scripts.


2012 Wales Drama Award Winner: Katherine Chandler
Katherine Chandler was the winner of the inaugural Wales Drama Award in 2012, beating nearly 250 other applicants for her script Parallel Lines. Her original drama short Tag was subsequently produced on BBC iPlayer and she went on to win the Judges Prize at the 2013 Bruntwood Prize.
2012 Winner: Katherine Chandler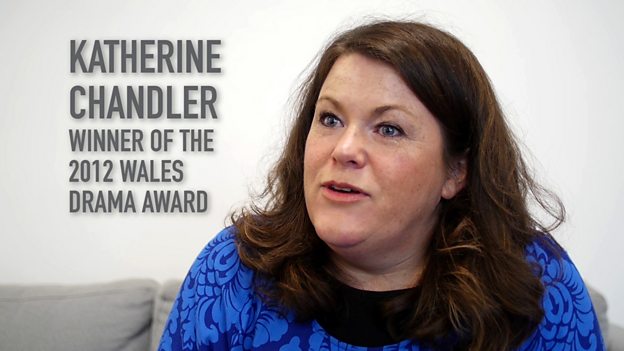 Wales Drama Award 2012 winner Katherine Chandler explains what winning the award has meant to her.