The door of opportunity has to be opened a little wider to allow for disabled access
BBC Writersroom's first Writers' Access Group launched in 2018. The bi-annual programme is part of the wider BBC's commitment to reflecting the experiences of the UK's diverse communities in its output and in order to get more realistic and more authentic portrayals of disabled people on air, as well as interesting and complex views from the disabled community. The Writers' Access Group is backed by BBC Content and BBC Drama Commissioning.
BBC Writersroom works in partnership with a number of organisations and practitioners in the field to identify potential members of the group. The writers are then selected on the merit of their scripts, their experience and via an interview process.
The group meets regularly across 9 months (in real life or online), for a programme of masterclasses in such things as story and structure, pitching and treatments, alongside hosting talks from A-list writers, script-editors, Executive Producers and BBC Commissioners. They are given introductions (including set visits) to BBC Continuing Drama, Radio, Comedy, CBBC and CBeebies. BBC Writersroom provides professional, freelance script-editing support to enable the writers to develop a Drama or Comedy 'calling card' script, so they can take the next step into authored TV or Radio work. The writers are also introduced to independent producers and production companies, as well as agents and commissioners.
The aim for the group is to achieve tangible and quantifiable outcomes - paid commissions - as well as creating more representation on screen and on air.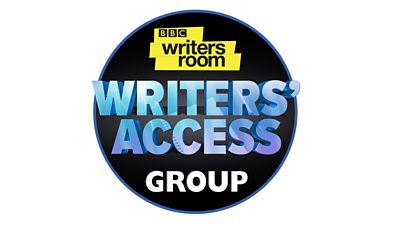 The 2020/21 Writers' Access Group
BBC Writersroom has announced the second Writers' Access Group for 2020/21, after the huge success of the inaugural group.
The initiative gives talented disabled writers the chance to expand their writing skills and to be offered opportunities in TV and Radio at the BBC.
Working with a number of organisations and practitioners in the field, thirteen disabled writers have been chosen on the merit of their scripts, their experience and via an interview process.
Meet the group and find out more about them over on our blog
Writers Access Group member Mandy Redvers-Rowe describes her experience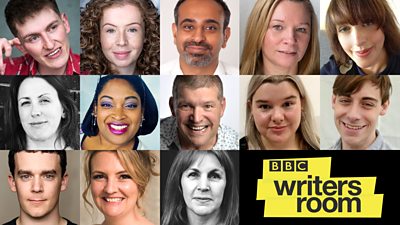 There are thirteen writers in the group:
Adam Fenton
Amy Trigg
Angela Clarke
Caron Brand
Karen Featherstone
Kate Wickens
Laurence Clark
Leanna Benjamin
Lizzie Watson
Mandy Redvers-Rowe
Robbie Curran
Shahid Iqbal Khan
William Barrington
The 2018/19 Writers' Access Group
The first BBC Writersroom Writers' Access Group was announced in September 2018 at a special launch event in BBC Broadcasting House.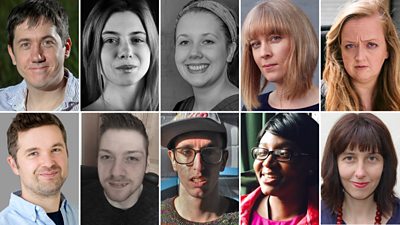 There were ten writers in the group.
David Proud
Amy Bethan Evans
Rebekah Bowsher
Sophie Woolley
Athena Stevens
Charlie Swinbourne
Michael Southan
Ross Willis
Matilda Ibini
Nicola Werenowska
In addition, several other writers attended many of the sessions and were offered the same opportunities:
Annalisa Dinnella
Rob Kinsman
Tom Wentworth
Are you interested in being part of a future Writers' Access Group?
The writers who take part in the group are identified through our work and key relationships with a number of third party arts organisations and practitioners, together with contacts with agents, our Open Call opportunity and occasionally by direct contact through scouting.
If you're interested to be considered as part of a future group then we would strongly recommend getting involved with existing arts organisations below. To be considered for a place in the group a writer must already have writing experience and have faced barriers to their involvement in the TV and Radio industry which require BBC Writersroom to provide significant support for their access needs.
Contact us
If you have any questions or would like your arts organisation to be included in the list below, please do not hesitate to contact us via email:
Disabled and D/deaf-led organisations