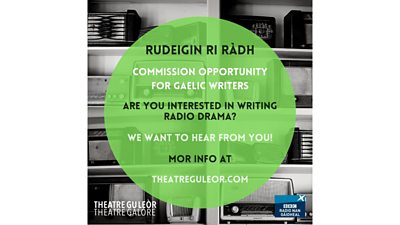 Are you interested in writing Gaelic radio drama?
Theatre Gu Leòr, in collaboration with BBC Radio nan Gàidheal, is looking to commission Gaelic writers to write a new Gaelic radio drama.
After the success of the first iteration of Something to Say last year, Theatre Gu Leòr and BBC Radio nan Gàidheal are excited to again offer this opportunity to develop more new voices writing for radio. Four new pieces were created last year which featured a variety of different subjects and styles – you can read about more about them here
They have a particular interest in either long pieces (e.g. 45 minutes) or a series of shorter pieces (e.g. 4 x 15 minutes), but are open to submission in other formats.
Theatre Gu Leòr would like to hear from writers at an early stage and from those more established in their careers. They are also open to previously unproduced submissions which were originally written in a different form (e.g. film, short story) and dramaturgical support will be available to help adapt these for radio drama.
What will happen
The pitches will be assessed by a panel and the successful writer(s) will received commissions in line with BBC radio drama standard rates of pay. The writer(s) will also receive dramaturgical support before submitting their final drafts.
The commissioned pieces will be recorded and edited, with a view to being broadcast on BBC Radio nan Gàidheal before the end of the year.
To Apply
Send your application to muireann@theatreguleor.com, including the following:
a 200 word summary, telling them what your piece is about, how many characters are involved and where it is set
a paragraph about yourself and your prior writing work
if you have already written a script, please send this to them also
Deadline: Pitches must be submitted before 9am on 4th July 2022
Draft Timeline:
Pitches submitted 04/07/22
Assessment w/c 04/07/22
Writers notified 08/07/22
Script submitted 31/08/22
Broadcast in November/December 2022
This is a non-BBC scheme
Please note that these schemes are listed here for your convenience. However, they are run by external organisations and unless otherwise noted the BBC has no involvement with them.
Therefore the BBC cannot respond to any queries in connection to those and accepts no liability for the accuracy of third party websites and the information contained on them.