The team at BBC Writersroom is based at five locations across the UK in London, Salford, Glasgow, Cardiff and Belfast.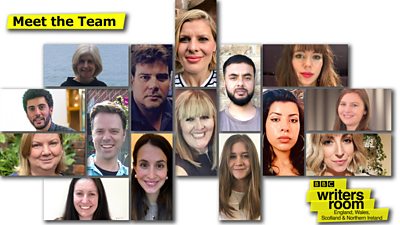 Alice Ramsey is the Salford-based Assistant Commissioner in Drama working across both Drama Commissioning and the BBC Writersroom to identify and develop writing talent and supporting the development and production of the drama slate with a specific focus on the North of England. Prior to this, Alice was a Development Producer at BBC Writersroom in Salford managing Drama Room, Writers' Access Group and Northern Voices. She joined BBC from BFI NETWORK in Summer 2019.
Audrey McFadden is the Development Coordinator in Glasgow coordinating events, opportunities, schemes, workshops and talent searches.
Cathy Quinn is the Development Coordinator in Belfast organising events, schemes, workshops and talent searches throughout Northern Ireland.
Heather Larmour is the Assistant Commissioner in Northern Ireland. She worked in BBC Northern Ireland's Drama department as a Radio Drama Producer for a number of years before moving to work in TV at Kudos where she was a Development Executive and mostly recently a Script Editor across several of the company's productions.
Helen Perry is the Wales-based Assistant Commissioner for BBC Drama and BBC Writersroom leading on new writer development, supporting the drama slate from Wales and is responsible for bringing more local voices and companies into active development and production. Helen's recently been the Script Executive on acclaimed HBO/BBC drama Industry, and prior to that was Development Producer for BBC Writersroom Wales championing Welsh talent through schemes, initiatives and productions including Welsh Voices, Find Me Funny, Wales Writer in Residence. Helen was previously an award winning audio drama producer/director creating original dramas for Radio 3, 4, 1Xtra, the World Service and BBC Sounds.
Jess Loveland is Head of New Writing based in Salford and working across BBC Writersroom and Drama Commissioning. Jess oversees all new writing talent development initiatives and works closely with the team to ensure we create a vibrant and inspiring home for new writers across the UK. Jess joins from the BFI where she was Head of BFI NETWORK, the organisation's UK-wide programme of talent development support for early career writers, directors and producers.
Monica O'Connor is the BBC Writersroom Production Manager providing finance and business support for BBC Writersroom across the whole UK.
Patrice Gerrard is the Development Coordinator based in London. He works across the London Voices and Writers' Access Group, and provides logistical support for other BBC Writersroom schemes and events. Prior to joining the BBC Writersroom he worked as an Event Manager at Southbank Centre.
Philip Mattison is the Digital Content & Communications Manager with responsibility for the website, blog, social media and other communications relating to BBC Writersroom's work across the UK. He works to represent, promote and develop the work and resources of the BBC Writersroom in digital spaces, including new forms of storytelling.
Simon Nelson is Development Executive in London. Simon looks after writer development and talent searches, development schemes, partnerships and production projects including the Continuing Drama Directors' scheme and Writers' Festival. (Read a blog by Simon)
Stephanie Fyfe is our Assistant Commissioner in Scotland, working across both Drama Commissioning and the BBC Writersroom to source, champion and develop new writing talent and to support the development and production of the Scottish drama slate. Prior to this, as a development executive and script editor, she has worked with a range of writing talent across multiple genres and formats.
Usman Mullan is the Salford-based Development Producer. He looks after writer development across TV, Radio and digital platforms, producing schemes, opportunities and events for writers across the the North of England and beyond. Usman has produced writer development programmes such as Northern Voices. Usman has a background in TV production and digital storytelling.
Zahra Al-Sultani is the Development Producer in London working on the Drama Room, London Voices and other development schemes.
Alongside us is a team of freelance professional script readers who work on the script calls, talent searches and competitions.
Contact us
Do you have a question that isn't answered on this website? Send us an email: