Who We Are
Meet the team at BBC Writersroom
The team at BBC Writersroom is based at five locations across the UK in London, Salford, Glasgow, Cardiff and Belfast.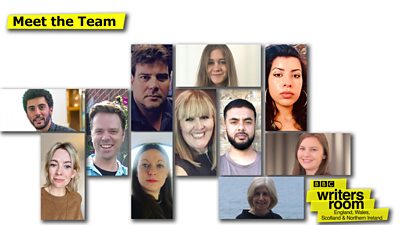 Alice Ramsey is the Salford-based Development Producer where her primary role is to identify and develop writing talent with a specific focus on the North of England. Alice joins from the BFI NETWORK where she developed a slate of feature scripts with exciting new writers across England, as well as executive produced short films.
Amanda Farley is Assistant Producer for BBC Writersroom with a focus on comedy schemes and development. She works across events, initiatives, workshops and talent searches. She organises the yearly BBC TV Writers' Festival and is Assistant Producer on the BBC Writersroom Comedy Room scheme and for digital content.
Audrey McFadden is the Development Coordinator in Glasgow coordinating events, opportunities, schemes, workshops and talent searches.
Beth Grant is the Development Producer in Wales, with a focus on finding and developing writing talent across Wales. Her background is in script editing across crime and comedy drama and joins from her role as a story editor in continuing drama.
Emily Angell is the Development Coordinator for BBC Writersroom in Wales and comes from a background of both freelance production and in-house roles. Emily has previously worked as Drama Coordinator for BBC Wales Drama and as Assistant Production Coordinator and Travel/Accommodation Coordinator on drama productions.
Monica O'Connor is the BBC Writersroom Production Manager providing finance and business support for BBC Writersroom across the whole UK.
Patrice Gerrard is the Production Coordinator based in London, providing logistical support for BBC Writersroom schemes and events. Prior to joining the BBC Writersroom he worked as an Event Manager at Southbank Centre.
Philip Mattison is the Digital Content & Communications Manager with responsibility for the website, blog, social media and other communications. He works to represent, promote and develop the work and resources of the BBC Writersroom in digital spaces, including new forms of storytelling.
Simon Nelson is Development Executive in London. Simon looks after writer development and talent searches, development schemes, partnerships and production projects including the Continuing Drama Directors' scheme and Writers' Festival. (Read a blog by Simon)
Usman Mullan is the Salford-based Assistant Producer. He looks after writer development across TV, Radio and digital platforms, producing schemes, opportunities and events for writers across the the North of England and beyond. Usman has produced writer development programmes such as Northern Voices, and also works across digital production and social media. Usman has a background in TV production and digital storytelling. 
Zahra Al-Sultani is the Assistant Producer for Drama in London working on the Drama Room, London Voices and other development schemes, as well as supporting digital content production.
Alongside us is a team of freelance professional script readers who work on the script calls, talent searches and competitions.
Contact us
Do you have a question that isn't answered on this website? Send us an email: