BBC Writersroom is a cross-platform department which seeks out and develops new writing talent, with a strong emphasis on diversity and regionality, while also championing more experienced writers.
We work with a wide range of production departments across the BBC, with BBC Studios, and with Independent production companies across the UK.
We are part of BBC Drama Commissioning, within BBC Public Service.
Where We Are
BBC Writersroom works with writers across the UK from our bases in London, Salford, Glasgow, Cardiff and Belfast.
Meet the Team and find out which staff are based in your area
Visit our blog for the latest news and updates, including news from our teams in Scotland, Wales, Northern Ireland and Salford.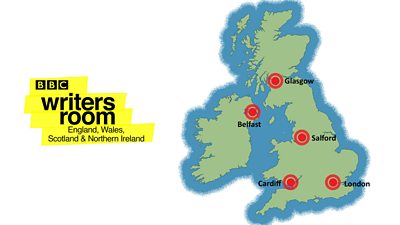 How we work with writers
BBC Writersroom is the public face of the BBC to the UK writing community, online and in the real world. Our focus is developing scriptwriters working in the English language. We run targeted Writers' Groups, support talent initiatives, offer career and script advice, and champion the writers we work with. We look for unique voices, identifying and developing talent through our schemes.
In partnership with BBC production departments, BBC Studios, and independent production companies we run:
Read more about our Successes
BBC Writersroom within the BBC
Addressing specific Production needs
We run regular writers' residentials for many different genres, for example Radio Drama, BBC Children's and TV Drama using expert mentors and industry professionals.
BBC Writersroom staff attend development meetings and work as an internal agent, suggesting writers for specific projects. We also run other workshops on request (for example on storylining with the Natural History Unit).
The development of writers for the BBC's Continuing Dramas (EastEnders, Casualty, Holby City, River City and Doctors) is managed by BBC Studios through the BBC Studios Writers' Academy. We support BBC Studios with their Writers' Academy and Writers' Workshop with application windows advertised on our Opportunities page and entries made via our online E-submissions system.
A Lab for New Forms of Storytelling
The award-winning The Last Hours of Laura K was a pioneering 24-hour long immersive drama, which placed the audience at the heart of the story. It was developed at a BBC Writersroom residential and subsequently produced by us.
We also work with other BBC Production departments including Research and Development to explore fictional storytelling using new forms of technology and social media.
Find out more and try two recent AI storytelling projects on the BBC Taster website
BBC Studios Writers' Academy & Writers' Workshop
The Writers' Academy was originally created in 2005 and ran until 2013. It was revived in 2019 as part of BBC Studios ScriptWorks. It provides support and paid training for up-and-coming screenwriters and gives new writers the chance to develop their skills on some of the BBC's flagship series, and the opportunity to develop an original series with some of the UK's best television drama production companies.
If you are interesting in writing for the BBC's Continuing Drama shows:
Visit the BBC Studios ScriptWorks website to find out more about the Writers' Academy, the Writers' Workshop and other opportunities via BBC Studios.
BBC Writersroom within the Industry
In addition to BBC in-house, we work in partnership with BBC Studios and independent production companies across the UK.
For our TV Drama Writers' Programme, writers are placed with independent production companies to develop their first original script commission.
Other recent partnerships with companies across the industry include:
We welcome approaches from Independent companies who have a track record of making quality Drama for broadcast, and a history of supportive and creative relationships with writers. We would be happy to meet and discuss whether we could support your scripted development slate for the BBC.
Contact us
Do you have a question that isn't answered on this website? Send us an email: