The pandemic is boosting young workers' interest in labour unions. Could this reverse long-term membership decline and bring real change?
J
Jack Rhodes Bernays thinks many customers have the wrong idea about how food delivery workers like him are faring during the pandemic. People say things to him like: "Oh, I bet you're busier than you've ever been." But across the UK, delivery riders and drivers are reporting tough times. With more couriers signing up and a drop in city centre business, it's becoming harder to get by.  
For the last two years, Rhodes Bernays been cycling for food delivery company Deliveroo in York, England. Pre-pandemic, it was rare, though always a possibility, for him to earn less than the minimum wage. Now, he says there are days when he might earn £4 an hour, less than half the legal minimum would be for a 26-year-old like him in formal employment. (Deliveroo says that on average, riders earn more than minimum wage, and has said in the past that new riders are only employed in areas where demand is increasing so "rider earnings are protected".)  
As freelancers, the riders have limited benefits or sick pay, and time spent waiting isn't always factored into pay. "You're constantly splashing around at the bottom of your overdraft," says Rhodes Bernays. He's on his phone constantly so he doesn't miss an order. He says lockdown has exposed the vulnerabilities of the job. "The pandemic definitely just shows that, basically, you don't really have workers' rights." 
So, about four months ago, he made the decision to join a union, the York Couriers and Logistics Branch of the Independent Workers Union of Great Britain (IWGB). His hope was that he could help draw attention to that lack of rights, while forging a community among workers who have traditionally been fairly isolated.
The pandemic definitely just shows that basically, you don't really have workers' rights - Jack Rhodes Bernays
Historically, trade unions have held less appeal for younger, informal workers. But as working lives have become increasingly unpredictable and jobs less stable, people like Rhodes Bernays have been rediscovering the benefits of collective action. Some labour experts say the pandemic could open the door to more demands from young workers.
Since peaking around the 1970s, unions across industrialised countries have struggled to both retain older members and recruit younger ones. In the UK and France, union density is about half of what it was in the heyday of unions (although, back then, it was still a minority of workers who were unionised). The situation is even more stark in the US, where union membership has dropped from about 25% of the workforce in 1970 to 10% now.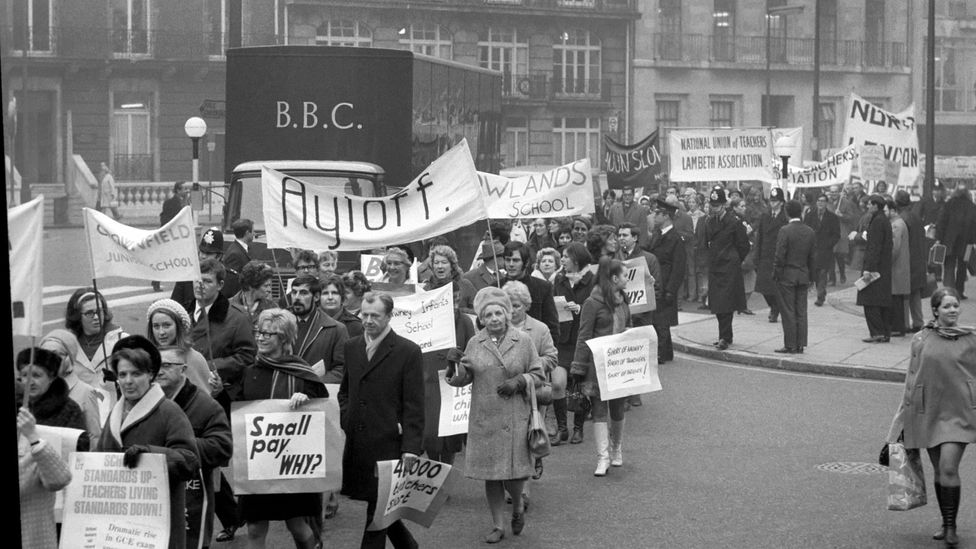 Union membership has been in steady decline since its heyday in the 1970s (Credit: Alamy)
The overall trend has been of unions attracting middle-aged and older employees, typically in permanent, full-time jobs in the public sector or in industries in which unions have historically been important. But such industries have faced a steady decline, while unions have tended to have less of an impact in fields such as retail, catering and hospitality. Those are the types of work where many young people start out, often in low-paid temporary or contract roles.
Younger workers are also bearing the brunt of the increasing instability of the labour market and the rise of the gig economy. Contracts are often shorter-term and hours less certain, and while gig-economy work may yield good earnings without workers being tied into contracts, it also offers those workers few protections. As the companies resist pressure to treat people who work for them as employees, this has seen businesses "deliberately testing the limits of regulation of labour markets in the UK and also internationally", says Melanie Simms, a professor of work and employment at the University of Glasgow.
But although they may not have been joining traditional unions, that doesn't mean young workers have been shunning the idea of organising altogether. Some have just been doing it their way, in a trend that began before the pandemic but has since gained new resonance.
Freelancers Union, for example, is a non-profit organisation that represents independent workers across the US who may previously have fallen between the gaps of traditional unions. This isn't a traditional trade union, as it doesn't collect member dues (although it receives revenue from health-insurance enrolments). It does not negotiate labour contracts, either. Freelancers Union has existed in some form since 1995, but its most high-profile success occurred in 2017, with the passing of the Freelance Isn't Free Law in New York City. This law strengthened protections for freelancers, including the right to a contract and timely payment. In doing this, it reached a goal of a traditional union: the mandating of better working conditions. But this success didn't happen through the traditional route of negotiating directly with employers.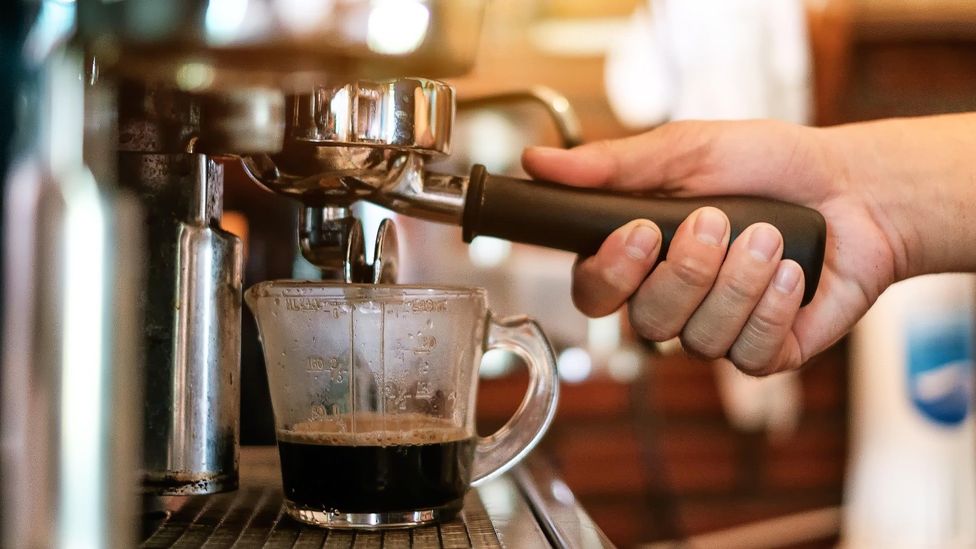 In Philadelphia, small movements involving workers who haven't traditionally unionised have appeared (Credit: Alamy)
There have also been other cases of young workers carving out their own collective action path in response to modern issues. For instance, in Philadelphia, a new generation of unions has been emerging in the last few years, headed by leftists in their 20s and 30s mostly working in the service industry. They've been pushing for better labour rights for themselves, but also connecting those rights to broader social justice movements, such as anti-racism campaigning or police reform. 
This sort of broad platform is also present in the employee pressure groups that have sprung up in places traditional unions can't often reach. For example, Amazon has prevented employees in the US from unionising. But, in 2019, the Amazon Employees for Climate Justice movement was formed. Initially pushing for stronger action by the company against climate issues, its advocacy has expanded to include issues like better Covid-19 protections for Amazon employees, and time off to vote.
When the pandemic hit, the kinds of workers these newer groups appeal to were among the worst affected. In the US, between March and June 2020, 20-to-24-year-olds lost their jobs faster than other age groups. And according to the Trades Union Congress, a confederation of UK unions, the two UK industries with the biggest proportions of young people – food and accommodation; and arts, entertainment and recreation – are also the two industries struggling the most. 
Anna Stansbury, who researches inequality and social policy at Harvard University, believes that "one of the longer-lasting effects of the pandemic will be to convince a broader swathe of people that joining a union might be helpful for them". She also thinks workplace safety in light of Covid-19 will be the key driver. She points to university campuses in the US seeing unions forming for the first time, due to safety and financial concerns related to the pandemic. "A lot of people have been sceptical of the drive to unionise graduate student workers and adjunct faculty at universities in the US. But these unions have played a big role in ensuring that workplaces are safe for graduate-student teachers to return to."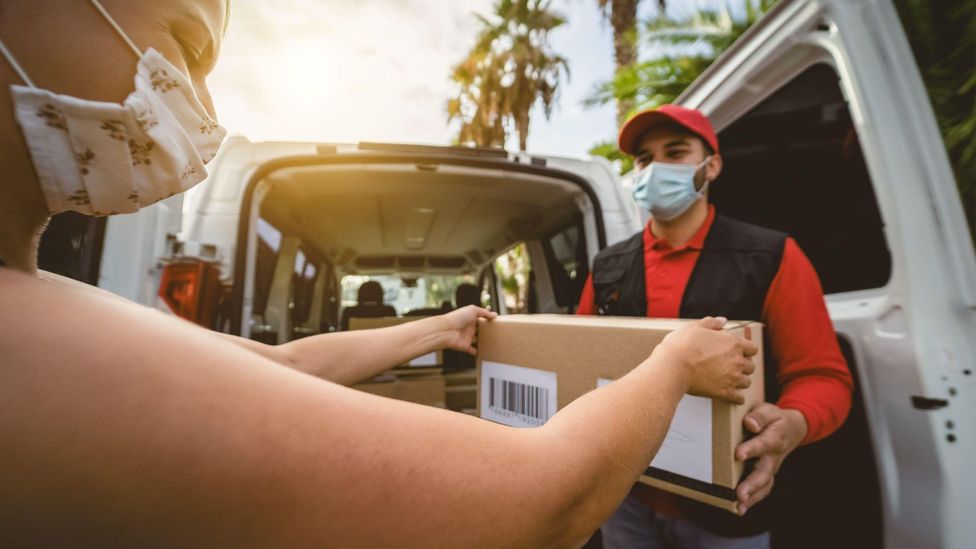 The pandemic has focused workers' attention on health and safety in an unprecedented way, say experts (Credit: Alamy)
Simms at the University of Glasgow agrees. She says before, health and safety was sometimes seen as "the most boring bit". But "this is a point at which it's never more obvious that your interests are at odds with your employer, if your employer asks you to do something that might make you very sick". 
There are certainly signs that the pandemic is generating renewed interest in labour unions. "During the height of the pandemic we saw our new weekly membership numbers increase by 300 to 500%, and the majority under the age of 35," reports Rafael Espinal, the 36-year-old executive director of Freelancers Union. Espinal believes that "the dramatic increase in numbers can be attributed to freelancers looking for a support system and a point of information during a time of uncertainty".
The Independent Workers' Union of Great Britain, which represents workers in typically non-unionised roles, including cleaners, receptionists, charity workers and game developers, also saw a spike in March in the number of new joiners younger than 35. The numbers are modest overall, but the rise has been significant and continuing. There were 146 young recruits in March, compared to an average of 78 in the previous four months, and 93 in the following four months. IWGB President Henry Chango Lopez says, "Young members are joining the IWGB because Covid-19 has made it chillingly clear that not even our most basic rights, not even our health and safety, can be taken for granted in this crisis."

Yet even if the pandemic is exposing the importance of employee organising, it may be making such organising harder. Converting current momentum into sustained change will be the harder part. 
As Simms points out, "when there's a recession and associated job losses, union memberships go down for the very obvious reason that people lose their jobs", while those who don't can be reluctant to rock the boat. Simms asks rhetorically, "Why would you go to war with your employer when most people haven't got a job?"
A secondary effect of the pandemic will be to increase people's perception in general that workers need more power - Anna Stansbury
According to both Simms and Stansbury, to ensure sustained progress, the pandemic-era organising will need to build toward pushing for changes to government regulation on issues like workers' rights in the gig economy. 
In York, Rhodes Bernays has moved quickly through union ranks and become a community initiative officer locally and a recruitment officer nationally. He acknowledges recruiting among couriers is hard work. But he says many of the younger riders have some activism experience already, and that it's common for youth to be searching for meaningful community online. Ultimately, he's optimistic about channelling these energies into labour organising if the offer is made attractive. 
It's too early to tell whether the Covid-19 effect will ultimately be just another anomaly in the overall trend away from the unionisation of the young. But Stansbury is already anticipating some upsides for the workers. 
"I think a secondary effect of the pandemic will be to increase people's perception in general that workers need more power, particularly essential workers who've been working the vital jobs our society needs to keep functioning, having to endanger their health and that of their family, and for very low pay. Thinking of unionisation as a justice issue, and broadening its support base, may help create the political conditions necessary to pass pro-union reform and policies."