Covid-19 has made many rethink social gatherings. But for Indian weddings, the lure of the lavish tradition might be stronger than the pandemic.
T
Two months after Uthara Murugamanikkam and Dhamodaran Subramanian met in November last year, their families started planning their wedding. The couple, from Chennai in the South Indian state of Tamil Nadu, would get engaged in early March and married in June. The wedding would take place in Coimbatore, 500km (311mi) from Chennai, with 250 close friends and family in attendance. Then, it would be followed by a reception for 500 people, and a larger soiree back in Chennai for 750 guests.
The engagement ceremony went smoothly. However, less than a week later, the World Health Organization declared the Covid-19 outbreak a pandemic, and India found itself living under lockdown. "As time went by, we thought of two things: postpone the wedding or have it anyway," says Murugamanikkam, 30, who runs a business selling handmade hair and skincare products. "Quickly we realised we weren't sure when things would get better."
The couple decided to go ahead with a wedding in Chennai, with only close family present. Just 15 people were there on 7 June as the bride and groom married at a small temple. "My only dream was to have friends and family at my wedding to share in my happiness, tease me, help me get ready. But now we have a story to tell our children and grandchildren. I don't regret this intimate wedding at all," she says.
Now that the pandemic has brought over-the-top Indian weddings to a halt, couples have had to make small events memorable amid restrictions. On the other side of the pandemic, could the smaller wedding endure, or is the lure of the big Indian wedding too strong?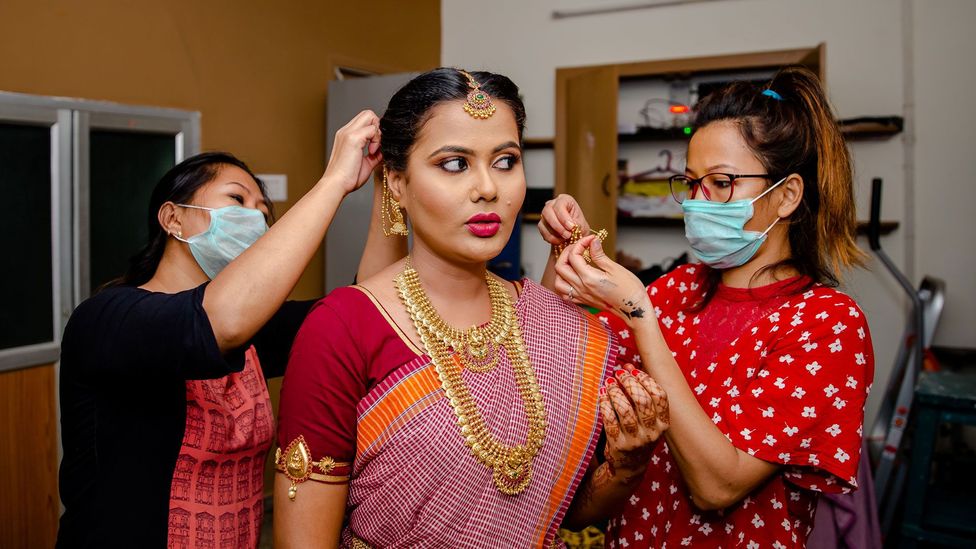 "I don't regret this intimate wedding," says Uthara Murugamanikkam, whose ceremony happened in June in front of only 15 people (Credit: Aju Photography)
In India, planning weddings generally involves striking a delicate balance between the desires of couples, dreams of families and expectations of guests. Weddings are often seen as occasions to flex social-standing muscles. Big weddings are very much the norm, and families are judged on their hospitality. Guest lists often include distant relatives and acquaintances. Budgets range from $6,000 and $13,000 for modest weddings; $41,000 and $80,000 for lavish celebrations; and $100,000 to $1m for extravagant revelries, according to industry experts.
Indian society is deeply divided along caste and class lines, so precise expectations of weddings differ for each part of society. In general, parents save for decades (and often go into debt) for what they see as their biggest responsibility toward their child, especially girls. An episode of Made in Heaven, a recent Amazon series set against the backdrop of glamorous weddings, shows a man taking a loan from the bank for his daughter's wedding without telling her, just to fulfil her dream of a perfect wedding.
When this powerful industry went from booming to shuttered overnight, the restrictions came as a boon to some
The idea of a big wedding as a marker of social status is both deeply entrenched and continuously reinforced by marketing from the wedding fashion, jewellery and styling sectors. Sociologist Patricia Uberoi once called Indian weddings "the most visible site of conspicuous consumption and conspicuous waste", while according to a KPMG analysis, an average Indian family spends about one-fifth of its accumulated wealth on a child's wedding.
With about 10 million weddings taking place in India each year, the industry is widely reported to be worth around $40bn to $50bn annually, second only to the US. Despite periodic attempts to curb them, weddings have grown more opulent over the years. Lavish celebrations involving wealthy business and Bollywood families have emerged as national spectator sports.
"Till earlier this year, one wondered just how big the Indian wedding was going to get. It was like a race. Grand was becoming grander, especially in high-income families," says Parthip Thyagrajan, CEO of WeddingSutra, a popular wedding portal.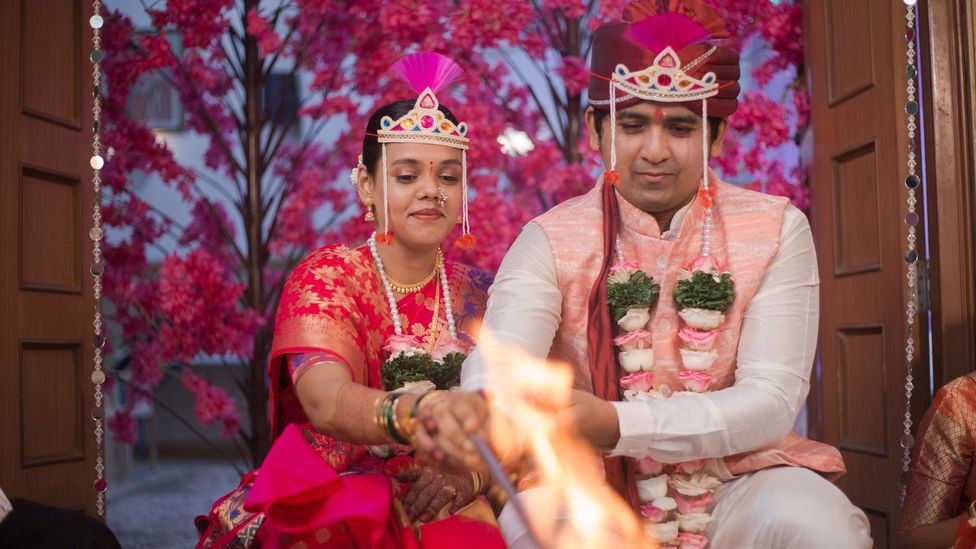 In Mumbai, Rasika Kshirsagar and Ajinkya Meher scaled their wedding from 700 people to 25 (Credit: Rasika Kshirsagar)
When this powerful industry went from booming to shuttered overnight, the restrictions came as a boon to some. Rasika Kshirsagar and Ajinkya Meher, both yoga teachers in Mumbai, didn't want to splash out on a big wedding. But, like many couples, they gave up on the idea to placate their parents. They picked a March date at a venue that would accommodate about 700 people, but Covid-19 forced them to cancel. When things opened up a little after three months, they had a small ceremony with 25 people instead. "We eventually got what we wanted," says 29-year-old Kshirsagar. And they only spent 20% of their original budget. They hope the savings will help them as they start their married life. "We've always wanted to travel around the country, and the world, for a few months to teach yoga. We hope to use the saved money on that."
For others, a small ceremony has been a matter of pragmatism. Mumbai-based Dr Sharada Rao's daughter lives in the US, and her future son-in-law in Singapore. The two need to be married before her daughter can get a visa to join him there. "There is no end point to the pandemic and it's not fair to keep their lives on hold," says Rao. "We are a simple family. We never had aspirations of a big function, but we would have liked to have had more events." The family's budget for gifting has not changed, and presents will go out to family members even though they will not be able to attend. The small wedding is now planned for January 2021 in the garden of a Mumbai hotel. 
There are also signs that people are trying to show wedding hospitality in innovative ways, rather than embracing austerity entirely. "For instance, people are opting for sit-down lunches as opposed to buffets," says Sejal Deshpande, founder of Shaadi Ityaadi, a wedding planning company focused on sustainable weddings. She planned a wedding in October in which the couple sent food parcels to relatives and friends who would have otherwise been present at the ceremony.
Although many more people will end up opting for smaller weddings out of necessity over the next few months, it's not clear the new approach will turn into a new tradition
Although many more people will end up opting for smaller weddings out of necessity over the next few months, it's not clear the new approach will turn into a new tradition. According to Parul Bhandari, an associate professor of sociology at Jindal Global University, part of the reason is that Indian marriages are strongly embedded in family and kinship structures. "Families keep in constant touch with their extended family and kin groups, not just at times of weddings, but also [for] religious rituals and festivals. In this way, the extended family and kin form an important part of the Indian society's fabric and, therefore, it is only considered reasonable to include them in an important rite de passage as marriage."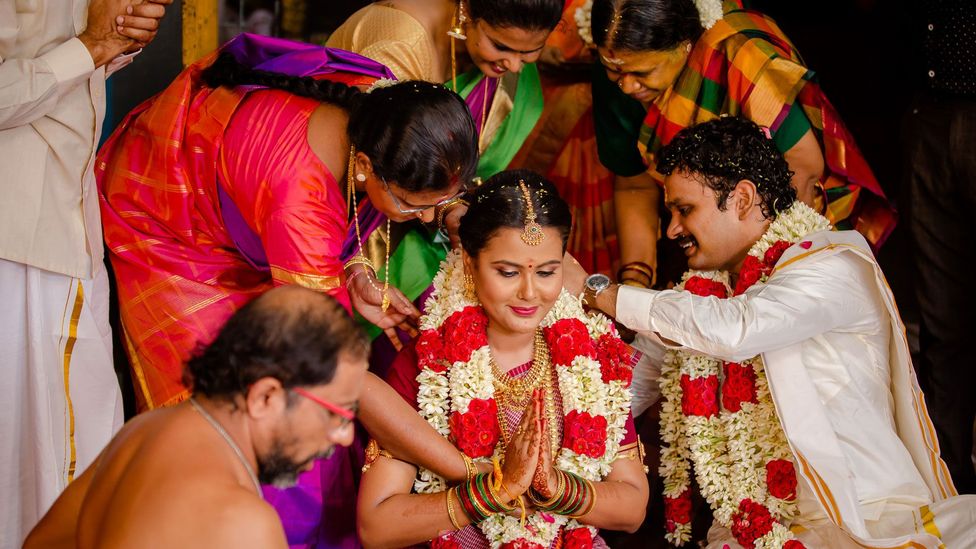 Although some couples are scaling back their large Indian weddings, others are keeping ceremonies just as lavish – but in a different way (Credit: Aju Photography)
WeddingSutra's Thyagrajan believes that the concept of a big wedding is firmly entrenched in the Indian culture. "Big weddings are very much part of our DNA. They are a special celebration. They are part of the happiness industry. They will make a comeback," he says, though he believes it may take a year or two.
Indeed, nine months into the pandemic, there are signs that interest is picking up again. Banquet halls at five-star hotels have seen a surge in bookings for November and December. However, hosts are having to get a little creative; for an upcoming ceremony, wedding planner Ekta Saigal Lulla says the clients have requested that all the guests be tested for Covid-19 two days prior to the wedding. Lulla has partnered with a diagnostics lab. She says, "Social gathering and social distancing don't go hand in hand, no matter how hard you try. Which is why we are taking precautions beforehand."
Destination weddings, which were all but forgotten in the past few months, are slowly picking up, too. Saigal Lulla says that newer venues are being explored, from Cyprus to Malta and Vietnam. Now that the numbers are smaller, people are focusing on giving a grander experience to their guests, she says. "So, instead of going to, say, Lisbon, a popular wedding destination in Portugal, people are exploring other places like Sintra or Algarve, where they can rent a castle." Countries such as Switzerland, where weddings didn't happen earlier due to generally small venues, are now on the table. "Since the guest list is shorter, clients can just buy the entire property and make it a memorable experience for those few people."
Kolkata-based wedding planner Pramod Lunawat is also in the midst of planning a wedding in Bahrain. He says that clients aren't concerned about travel safety, since "they are now spending on charter flights instead of commercial flights".
Although the pandemic has changed many of the ways we live, the entrenchment of the Indian wedding demonstrates how some cultural traditions are immutable. Major ceremonies like these weddings may adapt, especially as Covid-19 still looms large over every occasion. But even as Indian wedding hosts – and socialisers around the world – are being forced to think outside the box, some rituals simply seem bigger than their challenges.