Spring sunrise scoops Pic of the Season
15th June 2021
Last updated at
07:13
A photo of the Sun rising behind a lone tree at Murlough Bay has won BBC Weather Watchers Pic of the Season.
The stunning shot beat nine other spring finalists in an online public vote.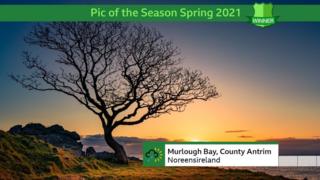 Weather Watcher Noreensireland - real name Noreen Mack - took the winning photo. She'd planned to capture the large vista of the bay landscape during sunrise but a bank of cloud obscured her view. When she noticed that the best light was coming from behind the tree she changed position, resulting in the winning shot.
It's a double win for Noreen, whose photo of autumn colours in Tollymore won Pic of the Season last year.
Congratulations to Noreen and to all our fantastic finalists, whose photos you can see again here.
Pic of the Season will return at the end of the summer so keep sharing your Weather Watchers photos for a chance to make the shortlist.
Follow us on Instagram to see more of the best Weather Watchers images.