Exceptionally cold April brings frost every day
30th April 2021
Last updated at
13:08
There was an air frost somewhere in the UK every single morning in April 2021.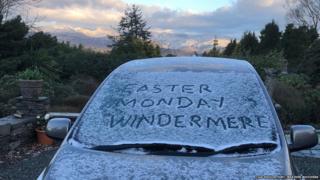 The last day of the month started with temperatures below -4C at Tulloch Bridge in the Scottish Highlands, rounding off an exceptional run of sub-zero nights.
In fact, provisional data from the Met Office suggests it has been the frostiest April for at least 60 years - with the lowest average minimum temperatures since 1922.
The frostiest place of all was Aboyne in Aberdeenshire, which dropped below freezing on 25 different nights. But many places saw far more frosts than they normally would - in Nottingham there were five times more frosts than usual.
It's likely that more than 50 different weather stations across the UK have broken records for their frostiest April.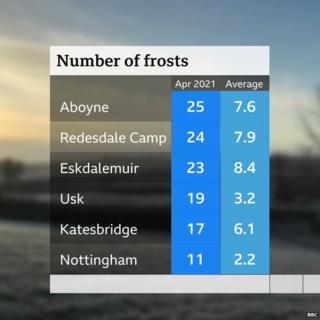 So why have the nights been so cold?
High pressure is one of the main reasons - allowing clear, calm conditions at night, the perfect recipe for temperatures to fall below zero.
The high pressure areas have tended to settle just to the west of the UK, bringing northerly winds and surges of cold Arctic air.
That was in contrast to April 2020, which was also dominated by high pressure, but which sat mainly to the east or north of us. That allowed us to tap into warm continental air, bringing much higher temperatures by day - and night.
This April was also exceptionally dry - one of the driest on record. That combined with the cold nights to bring difficult conditions for farmers and gardeners, although showers in the final week of the month brought a little respite for some.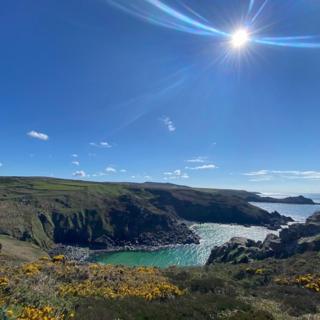 The clear skies that gave us night time frosts also meant some sunny days - with 48% more sunshine than usual.
It's already been the second sunniest April on record, and the Met Office says it could end up challenging the overall record once the final figures are confirmed.
A change to wetter weather is forecast for the start of May. But with chilly air remaining close by for now, a few more of those frosty nights also look likely.