Mountain clouds win Pic of the Season
15th September 2020
Last updated at
07:09
A striking shot of lenticular clouds taking the shape of mountain peaks on the Isle of Rum has won BBC Weather Watchers Summer Pic of the Season 2020.
The photo, taken by Weather Watcher Donald from Canna, beat nine other finalists to take the title.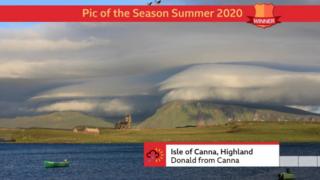 Donald took the winning shot from his garden on the Isle of Canna at the end of July.
Sometimes mistaken for UFOs, lenticular clouds are an unusual type of cloud that forms when the wind blows across a hill or mountain and the direction of the wind remains stable. As the moist air is pushed upwards, it cools and condenses into cloud but as it descends on the other side of the hill it warms and dries out again. Lenticular clouds can therefore take the shape of the landscape below them.
Congratulations to our winner and to all the summer finalists, which you can see again by clicking here.
If you'd like to submit your UK weather photos to the BBC, join Weather Watchers here.