Spectacular wave wins Pic of the Season competition
10th December 2019
Last updated at
07:59
A photo of a crashing wave in Porthcawl has won BBC Weather Watchers Pic of the Season Autumn 2019.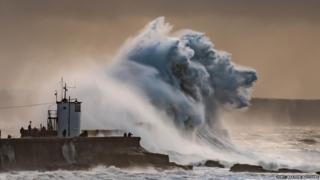 Weather Watcher tony took the spectacular shot, which was voted the public's favourite picture, in Bridgend in early November.
"I've been watching the waves hit the breakwater for many years and I was lucky to catch this wave" said tony. "At first I thought it looked like a dragon but when I got home it looked more like a wolf. Nearly every wave seemed to be very powerful that day; it was awesome to watch."
Congratulations to tony and thank you to everyone who voted.
Pic of the Season will be back to celebrate pictures from winter next year.
To get involved, sign up to be a Weather Watcher.