Atlantic hurricane season starts early
22nd May 2019
Last updated at
13:31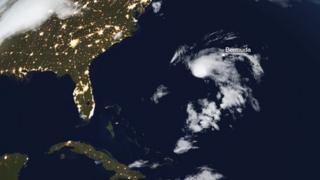 The Atlantic hurricane season doesn't begin until 1st June but, according to the US National Hurricane Center, the first named storm of the year has already been and gone.
Subtropical Storm Andrea formed on Monday between Bermuda and the Bahamas. By Atlantic standards it was a very weak storm. Maximum wind gusts were estimated at around 50 mph. It was also extremely short-lived, spending just three quarters of a day at tropical storm strength before dissipating into little more than a cluster of thunderstorms, passing close to Bermuda.
What's notable about Andrea, though, is how early in the year it developed. The official Atlantic Hurricane season runs from June to November - 97 per cent of storms form during these months - and the peak of the season comes in September when sea temperatures are at their highest.
But Andrea wasn't unique. Each of the last five years has brought at least one named storm before the start of the season. In fact, back in 2016 a very rare winter hurricane, named Alex, developed in the middle of January.
Storms that develop outside of the main hurricane season tend to be fairly weak and often don't make landfall, though in 2018 Tropical Storm Alberto, which formed near the Yucatan Peninsula of Mexico, did hit Florida and brought damage and flooding.
The names for hurricanes and tropical storms come from pre-determined alphabetical lists each year. So, when we start reporting on this year's Atlantic storms and you wonder why we've skipped straight to 'B', remember we've already had our letter 'A' - even though it only lasted less than a day!