Cricket and the weather
23rd May 2018
Last updated at
15:55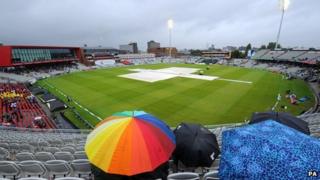 Is there a sport more affected by the weather than cricket?
A matter for debate perhaps. But, as a fan of cricket, there's nothing more frustrating than to hear the phrases "rain stopped play", "no play before lunch due to a wet outfield" or "bad light stops play". Rain is not uncommon but the effects can last for a long time.
Snow is not impossible in the English cricket season either. Heavy snow famously fell in June 1975 for Derbyshire's match with Lancashire in Buxton. The only entertainment for the spectators that day was watching the players have a snowball fight!
Even when it's dry the weather can affect the outcome of a game. Higher humidity and cloudy skies can help the ball to swing and move off the seam, making the game more difficult for the batters. Days of strong sunshine can dry out the pitch, making for a feast of runs, but also leading to cracks in the bowling surface, which can be exploited by the spin bowlers.
A captain's decision when winning the toss is heavily influenced by overhead conditions and the five-day weather forecast.