Fears over prolonged drought in Iran
19th January 2018
Last updated at
10:37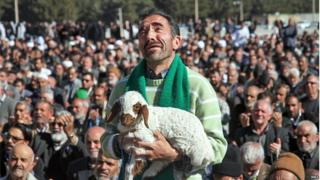 An ongoing drought in Iran has raised fears of an impending environmental disaster which could see the displacement of "millions" of Iranians.
Years of low rainfall and rising temperatures have stoked fears of sandstorms which could engulf vast swathes of Iranian territory.
"Drying lakes and rivers, declining groundwater resources, land subsidence, water contamination and rationing, agricultural losses, salt and sandstorms, and ecosystem damages are reaching alarming levels in Iran," said the deputy energy minister for water resources planning, Hedayat Fahmi, in August last year.
Recently, Iran's Deputy Foreign Minister Abbas Araqchi, said that the conditions should be viewed as a potential security issue.
He referred to water as a "strategic commodity" for which "strategic action needs to be taken".
Crisis
The high rate of evaporation is also believe to be contributing to the crisis.
The evaporation rate in the country is above the global norm - an estimated two-thirds of rainfall evaporates before it can replenish rivers.
In addition, domestic use of water is 70% higher than the global average.
Iranian media have reported that reservoir water levels have dropped by more than 50% compared with last year, while rainfall has dropped to its lowest level in nearly 50 years.
Widespread use of outdated agricultural and irrigation models is also a contributing factor. According to a report by the Department of Environment, the agricultural sector uses 93% of Iran's water resources.
In October 2017, Vice-President and Head of Iran's Environmental Protection Organisation Isa Kalantari criticised experts and authorities for carrying out "incorrect water management policies" for the past three decades, causing "bankruptcy to the water sector".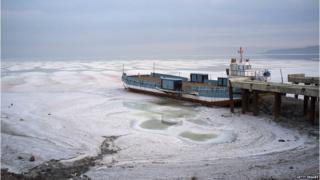 "There is not a living pond or lake in the country today, and we are wondering why dust pollution has increased in the country," the ISNA news agency quoted him as saying.
Mass migration
The country is already facing dust and salt storms and pollution. Lake Urmia in northwestern Iran and the Karoun River in the southwest have already started to dry out.
Last year, a report on Lake Urmia said that water levels had declined by 3 cm and its area has shrunk by 36 sq.km. over a period of two weeks
And the managing director of the Iranian National Institute for Oceanography, Vahid Chegini, has warned that the drying of the lake will lead to sand and salt storms on "a quarter of Iran's territory".
But there have also been warnings about the displacement of millions of Iranians if the crisis continues.
In an interview with Aftab Yazd daily last November, environmental expert Mohammad Darvish warned that the depletion of underground water resources had already led to the evacuation of many villages.
Mr Kalantari, who previously served as minister of agriculture, has said that if the crisis continues, "approximately 50 million people - 70 per cent of Iranians - will have no choice but to leave the country.