Rare hair ice spotted in Highlands
30th November 2016
Last updated at
13:57
One of our Weather Watchers spotted this rare "hair ice" earlier this week.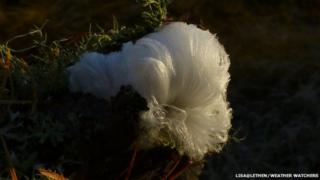 Lisa@Lethen found the hair ice in the woods near her home in Nairn in the Highlands on Monday.
She told us, "We had a sharp drop in temperature [on Sunday] and you often find it when you don't see any other frost about. It's one of my favourite weather finds."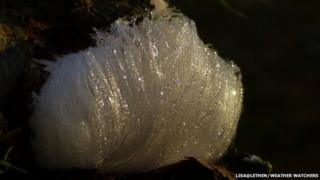 Hair ice, also known as ice wool or frost beard, is a highly unusual type of frost that forms on dead wood.
The strange, candyfloss look is caused by a fungus called exidiopsis effusa.
The action of the fungus is to enable the ice to form very thin hairs - with a diameter of about 0.01mm - and to keep this shape for many hours when temperatures are close to freezing.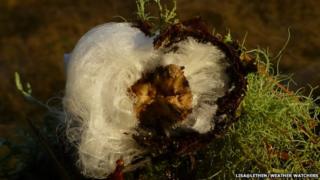 The ice only appears on wood which has fungus growing in it. There must be lots of water around, humid air, and the temperature must be below freezing.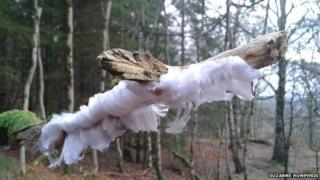 A study by scientists at the University of Bern in Switzerland, published in July 2015, linked the formation of hair ice to the exidiopsis effusa fungus.