Sudden stratospheric warming responsible for UK's icy blast
12th January 2013
Last updated at
17:07
A snowy chill has arrived across the UK, with all the fun and chaos which that entails. Many of us are being impacted by the wintry weather this week, a shock for many after such a benign start to the season.
Yet the beginnings of this change in the weather can be traced back to strange goings-on, miles above us in the atmosphere, many days ago.
For a few weeks now, forecasters have been monitoring an abrupt jump in temperatures way up in the stratosphere - not a cooling, but actually a sudden warming.
Such sudden stratospheric warmings (SSW) have led to notable cold spells in recent years.
In January 2009, forecasters saw such an event coming down the tracks, and by early February, most of the UK was under a blanket of snow.
Not every SSW event leads to a bitter spell for us in the UK, and not every cold spell is caused by SSW - the atmosphere is far more complicated than that.
But SSW is a powerful tool for forecasters, and at the end of last week it became clear that this particular SSW would have a big impact on our weather. Indeed further snowfall is anticipated across the UK in the next few days.
So the cold and snowy weather is with us. But how long will its magic and mayhem last? The honest answer is that we do not know.
SSW events not only throw the atmosphere into disarray, they also present huge challenges for computer models in predicting what happens next.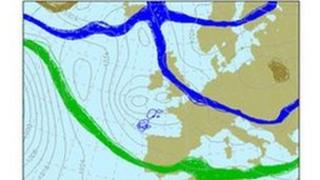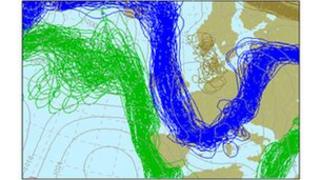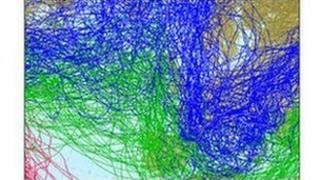 Normally we can be quite confident in our predictions for up to a week ahead. But not at the moment.
The graphic on the right shows how the computer currently "sees" the atmosphere. The blue area indicates cold, and green indicates warm. We in the UK are definitely very cold - as if you needed reminding!
As we run the computer prediction forward over a few days, we can see that the cold and warm boundaries remain clearly defined. The UK remains very much in the cold.
However, as we look further ahead, just four or five days, the boundary becomes increasingly blurred, and within a week, the computer prediction is completely disordered. It may stay cold, it may get warmer. We do not know; in fact, anyone who tells you definitively what next week's weather will be like is whistling in the wind.
Meteorologists call this a "spaghetti plot", and you can see why.
So, forecasters are facing a huge challenge. Until the effects of this sudden stratospheric warming wear off, predictability beyond just a few days is unusually low.
What we can say is that for the foreseeable future, we will remain in the grip of cold weather and we must enjoy or endure as best we can.