Peter Gibbs
10th September 2012
Last updated at
10:57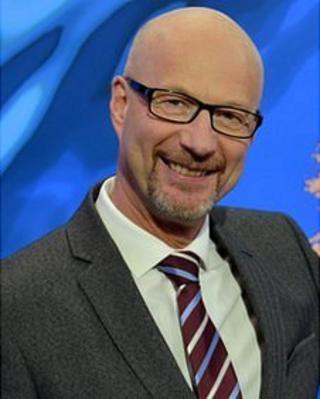 As well as appearing on BBC Weather, Peter Gibbs regularly chairs the popular Radio 4 show Gardeners' Question Time and has presented items for BBC TV's technology programme Click and the environment series Costing the Earth on Radio 4.
Peter grew up in the Lake District and has always had a love of the outdoors which fed his interest in weather.
After graduating from Newcastle University in 1979 he spent two years living and working in the Antarctic as a meteorologist with the British Antarctic Survey.
Peter was responsible for weather observations and balloon soundings at Ice Station Halley on the Brunt Ice Shelf, where temperatures fell as low as -40C during the four months of winter darkness.
The Falklands war broke out as Peter was preparing to return to the UK in 1982 and he finally made it back to Southampton on the first ship to return from the war zone.
Some 34 years later he made an emotional return to Halley, to report for BBC Two's Horizon on the vital scientific work done there.
Peter has been a Met Office forecaster since 1983. A varied career has included forecasting for Tornado jet pilots, for rocket trials in the Outer Hebrides and even forecasting conditions for chicken farmers in Norfolk.
A Fellow of the Royal Meteorological Society, Peter's television career started in 1993 at BBC Look East in Norwich, before he moved on to the BBC Weather Centre team in London in 1997.
Peter says: "The weather even finds its way into my favourite hobby - sending cameras up on weather balloons to capture spectacular video from the edge of space."