Dead Russian wrestler Besik Kudukhov keeps 2012 silver despite failing drug test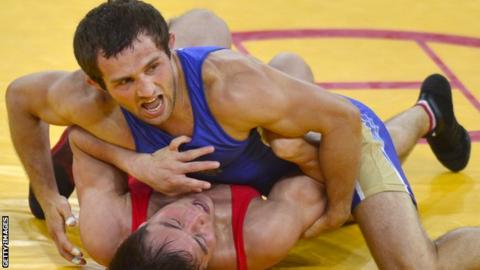 A Russian wrestler who died in a car crash will not be stripped of his Olympic medal despite his sample testing positive for a banned steroid.
Besik Kudukhov, who won freestyle 60kg silver at London 2012, died in 2013.
He was found to have taken the steroid turinabol when the World Anti-Doping Agency re-tested samples this year.
An International Olympic Committee (IOC) disciplinary committee said the case has "now terminated its investigation with no action taken".
Indian wrestler Yogeshwar Dutt - who finished third in London - tweeted in August on hearing of the failed test: "If possible he must be allowed to keep the medal. It will keep his family's honour intact. For me humanity is above everything else."
Vice-president of United World Wrestling, Georgy Bryusov said: "The IOC will not deprive Besik Kudukhov of his silver medal".