Olga Butkevych becomes Britain's first female medallist at worlds
By Nick Hope
BBC Olympic sports reporter
Last updated on .From the section Wrestling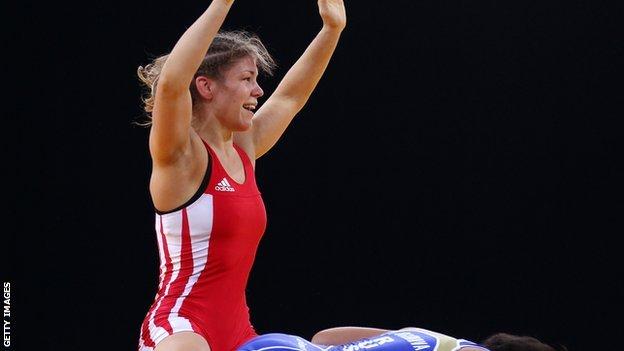 Olga Butkevych put the disappointment of the Olympics behind her by becoming the first British woman to claim a World Championship medal.
Outgoing performance director Shaun Morley said Butkevych's bronze proved her "world-class" ability.
"This is a fantastic achievement and should not be underestimated."
Morley, who along with GB head coach Nikolai Kornieiev is leaving the programme after a disappointing Games, added: "She was in a really tough half of the draw. Had she been in the other half, I'd say she might even have gone all the way to the gold-medal match."
Butkevych was recruited by British Wrestling in 2007, initially as a sparring partner tasked with improving the standard of home-grown talent.
Although some British wrestlers raised their concerns about the move, Butkevych and several other foreign-born athletes were permitted to compete for GB without British passports.
In 2011, Butkevych took advantage of a ruling by the sport's international governing body, the International Federation of Associated Wrestling Styles, and won bronze at the European Championships in Germany.
In early 2012, Butkevych attained British citizenship and this summer she became GB's sole wrestling representative at the London Games, as the only athlete to have achieved the performance criteria agreed with the British Olympic Association.
British Wrestling will hope that a medal at the World Championships will aid their bid for support leading to Rio 2016.
The sport failed to achieve their minimum target of a top-eight place at the London Games and in their annual review they admitted there was a "likelihood of significant reduction in funding" from their current level of £1.435m, with UK Sport expected to channel more resources on those sports with genuine podium potential in four years time.