World Women's Curling Championship: Scotland miss out on play-offs
Last updated on .From the section Winter Sports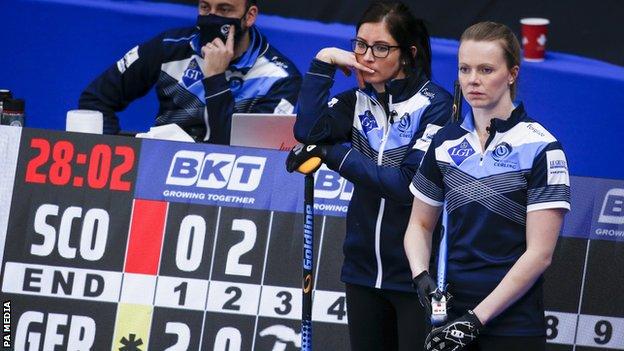 A disappointing World Women's Curling Championship for Scotland will "hurt for a few days", says Eve Muirhead.
Team GB representation at next year's Winter Olympics now rests on a qualifying event after Muirhead's rink missed out on a top-six place in Calgary, Canada.
A 9-5 defeat by Denmark had left the Scots needing an unlikely sequence of results to fall their way and their hopes had already been ended before they lost 7-6 to China in the final round-robin contest.
Defending champions Switzerland, the Russian Curling Federation, Sweden, Denmark, the USA and Canada all progress and have sealed places at Beijing 2022.
After ending up eighth overall with a record of six wins and seven losses, Muirhead said: "It's never nice to be finished early.
"It's been a really disappointing week for us in general.
"We need to keep our heads up, which will be tricky, because it's going to hurt for a few days, I know that, but we'll do our best to not let it hurt too much."
A qualification competition later this year will decide the final three Olympic places.