Max Parrot: Canadian snowboarder says he has 'beaten' Hodgkin lymphoma
Last updated on .From the section Winter Sports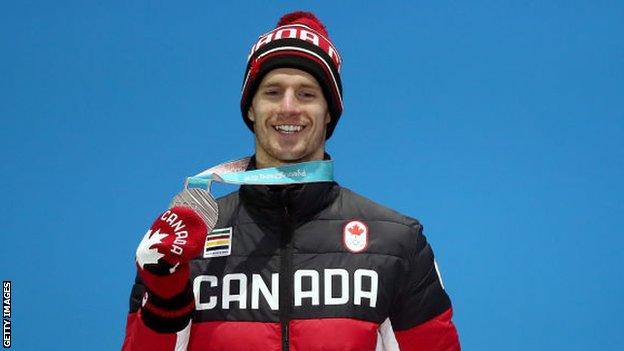 Canadian snowboarder Max Parrot, who won slopestyle silver at the Pyeongchang 2018 Winter Olympics, says he has "beaten" cancer.
He had his 12th and final round of chemotherapy in June.
"After battling myself to the best I could during these past seven months, I can finally say that I have won against cancer!" he said on Instagram.
Parrot now aims to compete for the first time since his diagnosis at an X-Games big air competition in Oslo, Norway, in August.
"I definitely think I may be going too fast into it, but this is how I am," he told the Canadian Press.
"This is how I've done everything. This is how I got to be a pro snowboarder.
"I've beaten cancer, but my body is not back to normal yet. I feel like I'm getting back my muscles and my cardio and my energy, but there's still a lot of work to be done."