British bobsleigh athletes to miss World Cup opener because of funding cuts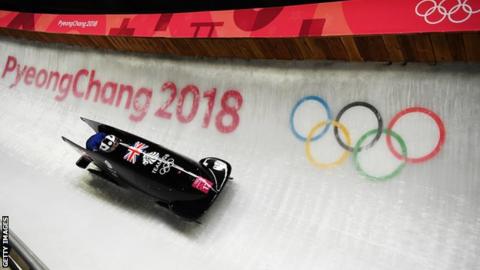 British bobsleigh athletes will miss the season-opening World Cup races in Sigulda, Latvia, this weekend as a result of UK Sport's funding cut.
The sport received over £5m in the run up to the Pyeongchang Olympics but lost that after failing to win a medal.
A small amount of funding has been provided by UK Sport to help GB compete at the World Championships in March.
"Our focus this year is on performing at the World Championships," said head coach Lee Johnston.
"We know that this is where we will be judged - we have to look at the bigger picture," added Johnston, who admitted that in a "perfect world" they would also be competing in Latvia.
The sport was hit by a series of pre-Olympic scandals involving accusations of bullying, sexism and racism, while pilot Mica McNeill was forced to resort to crowd funding after a financial overspend by the sport's national governing body (BBSA).
McNeill and Mica Moore would go on to finish eighth at the Games - a British record for a women's team - while the funded men's teams finished 17th and 18th.
However, the British squads have impressed in recent weeks, claiming 10 podium places - including four gold medals for McNeill - across five weeks of second-tier racing in the USA and Canada.
"Mica [McNeill] has had a great start to the season so she's built up some good ranking points," said Johnston. "That means that she can afford not to head to Latvia and can get ready for a big effort in Germany [at the next World Cup round] instead."
Neither the British Bobsleigh and Skeleton Association (BBSA) nor UK Sport have revealed the size of the "transitional fund" given to the sport, but it is understood to be enough to fund one women's two-man and one men's four-man sled.
As there are no four-man events at the season-opening Sigulda World Cup, the British team took the "collective decision" to have a few days' rest in the UK.
McNeill and four-man pilot Brad Hall will return to action with their crews for the second World Cup of the season in Winterberg, Germany, from 14 December.
They hope that a strong performance at the World Championships in Whistler, Canada, next March could encourage UK Sport to reinvest in their programme in the build up towards the Beijing 2022 Winter Olympics.