UK Sport accused of 'bullying' over funding by ex-BBSA directors
Exclusive by Dan Roan and Patrick Nathanson
BBC Sport
Last updated on .From the section Winter Sports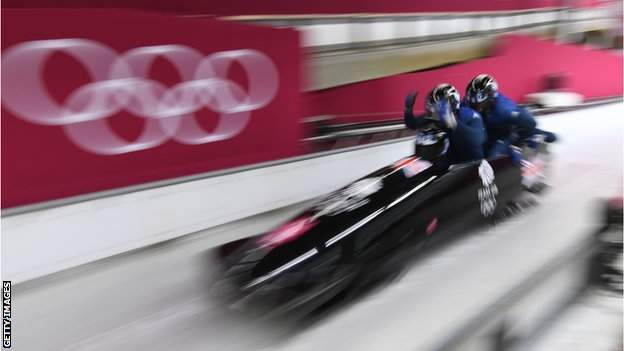 UK Sport has been accused of "bullying" national governing bodies with threats over public funding by two former board directors of the British Bobsleigh and Skeleton Association.
Elizabeth Heath and Steven Rowland-Jones both resigned from the BBSA in September after UK Sport demanded its entire board step down as a condition of receiving £6m of public money.
In correspondence seen by the BBC, each then wrote letters claiming UK Sport had breached governance rules to the Secretary of State for the Department for Digital, Culture, Media and Sport (DCMS).
UK Sport has refuted all the allegations and said change at the BBSA had been "fundamentally necessary to protect public funds".
It insisted it was entitled to make grants subject to what it called "reasonable and proportionate conditions".
Formal complaint
Heath - a qualified lawyer - said UK Sport "seeks to control national governing bodies (NGBs) by the use of threats" in "flagrant disregard" for its code of sports governance and had acted beyond its powers.
Funding for NGBs, she told Jeremy Wright MP in a "formal complaint" sent on 30 October, "had been used as a 'beating stick' to ensure compliance with their wishes".
She said UK Sport acted "with a fundamental lack of integrity and transparency" and that there had been "profligate use of public money".
Rowland-Jones - a former Army colonel - made similar allegations in his letter, claiming that "a growing number of NGBs are dissatisfied with the manner in which UK Sport is conducting itself".
He added: "There are suggestions of a bullying culture in the way senior executives of UK Sport interface with NGBs and use public funding as leverage to get its own way."
In September, after a series of controversies at the BBSA, UK Sport's outgoing chief executive Liz Nicholl wrote to the governing body's chairman, Christopher Rodrigues, telling him that all board members must stand down and re-apply for their roles if millions of pounds of funding was to be received.
Last year, the BBSA launched an independent review into allegations by athletes of bullying, sexism and racism.
Despite being the country's best-funded winter sport, the BBSA controversially told athletes Mica McNeill and Mica Moore there was no money left to fund a women's bobsleigh team at this year's Winter Olympics because of what UK Sport described as "financial mismanagement".
Nicholl told Rodrigues that UK Sport would be "directly involved" in the recruitment of a new chairman, new board members and a performance management group. The chairman would also line-manage a general manager.
Heath claims the conditions breached the sport code of governance, which requires a clear division between an NGB board's oversight role and its executive's operational role.
She also claimed it "fundamentally undermines and removes the independence and integrity of the NBG", was a "shameful" and "blatant disregard for [company] law" and that the "illegality of the conduct is in itself incredulous".
Both her and Rowland-Jones also complained that the recruitment of a new performance director was "manipulated" and taken out of the BBSA board's hands - "in breach of employment law", according to Heath.
Heath said "individuals from other NGBs have indicated their experience of bullying and intimidating behaviour of UK Sport", adding: "A funding partner should work in a collaborative manner, not bully and threaten to achieve compliance."
She called for an independent review to be conducted into the relationship between UK Sport and NGBs.
Refute allegations
Both Heath and Rowland-Jones say they abstained from a vote by the BBSA on whether to accept the conditions and then resigned so they could make their complaint.
A UK Sport spokesman said: "We refute all the allegations made about UK Sport's conduct in this complaint.
"We have worked closely with the chair of the BBSA throughout this period of significant change, which we felt was fundamentally necessary to protect our investment of public funds in the governing body's world-class programme, given the challenges they've faced over the past year.
"UK Sport notes that the current leadership and management team of the BBSA have made, and continue to make, significant strides forward.
"We are confident our decision to place the Skeleton World-Class Programme Award with the BBSA is the right one and we look forward to continuing to work with them throughout the Beijing cycle."
UK Sport believes its Royal Charter permits it to make grants subject to conditions it deems fit and that the BBSA was free to accept or reject its offer.
The DCMS has been approached for comment.