Katie Ormerod: Olympic snowboarder on how a broken heel led to 'dark days'
By Katie Falkingham
BBC Sport
Last updated on .From the section Winter Sports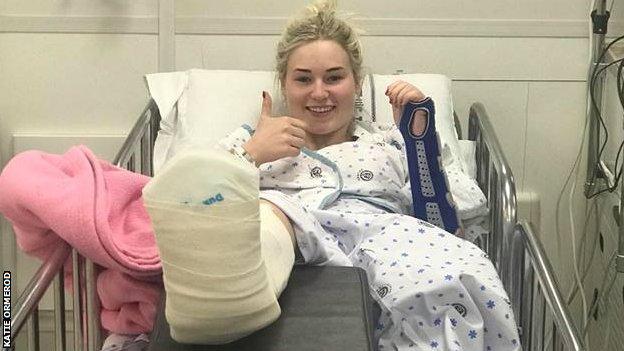 Pain is the only word Katie Ormerod associates with Pyeongchang.
The physical pain of breaking her heel bone clean in two. The mental pain of not being able to show the world her ability on a snowboard on the biggest stage of all.
Yet this comes from someone who has experienced her fair share of pain. A snapped anterior cruciate ligament and a broken back are among her extensive list of injuries, and she's had seven operations on this one alone.
"They were all paper cuts compared to this one," says the 21-year-old. "Up until my last operation, I was in pain every day just walking about."
Ormerod - an X-Games and multiple World Cup medallist - was one of Great Britain's greatest hopes before the Winter Olympics in South Korea, having won bronze at the test event.
However, she came off a rail too early in training and her Games were over before they had even started - a fractured right heel ruling her out three days before she was due to compete.
In the nine months since, Ormerod has endured some of her darkest days - but at last she is pain free, physically and mentally.
Here, she tells BBC Sport about her battle with depression, how she plans to grow women's snowboarding, and how pig and shark skin came into the equation.
Reflections on a nightmare day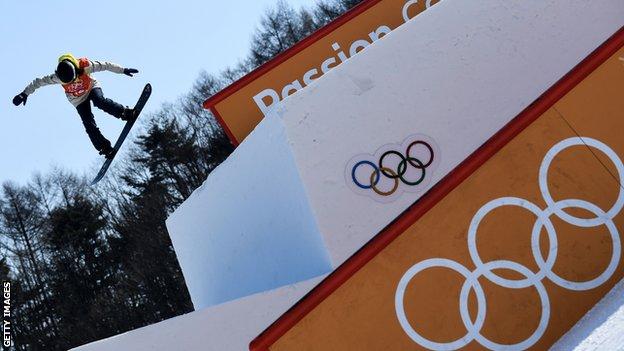 Ormerod had already broken her wrist out in Pyeongchang - and it was on the same rail the following day that she snapped her heel in two.
"Straight away I knew my Olympics was over. It was the most horrendous pain I have ever felt and it was very traumatic," she says.
Medics took more than an hour to remove her boot - they tried to cut through it but in the end were forced to pull it off - and it was her boyfriend, former New Zealand snowboard coach Lachie Good, who had to inform her of the severity of the injury.
"I was gutted because of all the hard work I had put in over the past four years and for it all to be taken away from me so quickly, in the most painful way possible, was awful," she adds.
"I just think it wasn't meant to be for me in Pyeongchang. I feel like it was always meant to happen."
Fighting for her career
Ormerod had her first operation in South Korea to pin her heel back together, and she thought that would be her last.
"I felt so confident that I could do well and bring a medal back," she says. "For that to be taken away from me in an instant was so hard for me to come to terms with.
"I struggled with it for a few months after."
Those struggles turned into depression for a "sad and confused" Ormerod, who kept her emotions to herself and questioned her future.
"All I have ever known is snowboarding. I started when I was five and in my head I've always seen myself snowboarding for as long as physically possible," she says.
"I couldn't get to grips with the idea it could be career-ending. I really didn't want that to happen."
One quick glance through Ormerod's Instagram page and you would never think the dark clouds of depression had descended. But that, Ormerod says, is the problem with social media.
"It is not always real but I felt I had to be positive to help others," she adds.
She finally found the courage to voice her struggles - first to her parents, then to her team manager.
"I felt like I was the only one going through difficult times but, after four months, I realised one day that I wasn't the only athlete or person in the world going through it," she says.
"As soon as I started opening up, I felt better."
Skin grafts - pig or shark?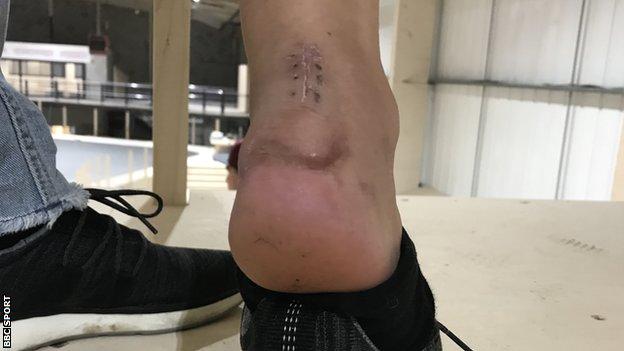 After every operation she's had, Ormerod has been sure it would be the last - in particular, the first one.
But upon her return home from South Korea in February, British surgeons found the skin on her heel had died through to the bone, complicating matters even more.
They were forced to perform a skin graft using skin from Ormerod's hip - as well as the skin of a pig.
"The doctor mentioned using shark skin but on the day of the operation he decided they would use pig skin instead," she says.
"It's really noticeable, I have a big dip in my ankle now and the skin is a lot darker."
Ormerod had surgery for the seventh time in October to remove the screws holding her heel bone together after they were found to be aggravating her Achilles.
Finally pain free, there is light at the end of the tunnel - she hopes to be back on her board early next year.
"I am really excited to be back. I got a small taste for it last month when I went out to Austria. Just being back in the mountains was the most amazing feeling and it made me realise just how much I missed it," she says.
"There is no way I could stop snowboarding and stop pushing myself because it is built in me. I want to challenge women's snowboarding and keep progressing."
Changing the game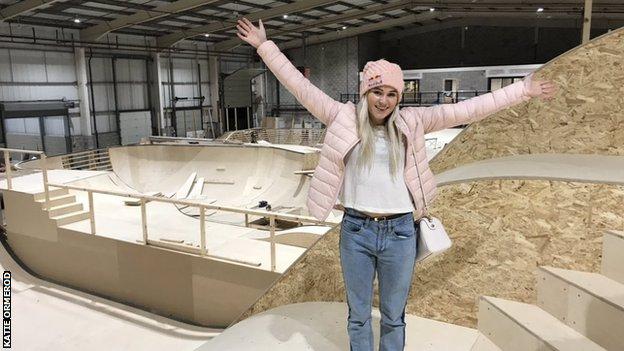 If anyone is going to challenge women's snowboarding, it's Ormerod - the first female to land a double cork 1080 (three rotations and two inverted flips).
This week, Austria's Anna Gasser became the first woman to ever land a cab triple underflip - which is three and a half full rotations - and Ormerod is determined to keep up.
"I definitely want to keep challenging the tricks that are being done in women's snowboarding," she says. "In the past, the guys are the ones who have been setting the bar high and I think it would be amazing to see the women's sport going in the same direction."
Ormerod and her British team-mates have always been at a disadvantage when it comes to competing internationally because of having grown up "without snow in the back garden".
But times are changing. At the start of the year, the British team's "secret weapon" was unveiled - a 60-metre long and 23-metre wide airbag in Livingo, Italy, costing about £100,000 of UK Sport and Sport England money.
Closer to home, the first Graystone Action Sports Academy will open in Manchester in December, providing an indoor training centre for athletes.
"It's going to do the world of good for snowsports in this country," Ormerod says.
"We're already challenging for the top of the podium against athletes who have snow in their back gardens, so now that we are going to have this, the level of British skiing and snowboarding is going to increase so rapidly."
And with little more than three years to go until the Beijing 2022 Winter Olympics, the countdown is on for Ormerod.
"I have unfinished business with the Olympics," says Ormerod, who will be 24 in 2022. "I definitely want to get that medal in Beijing and I'll keep pushing myself until I get it."