NHK Trophy: 16-year-old Rika Kihira lands infamous triple axel
Last updated on .From the section Winter Sports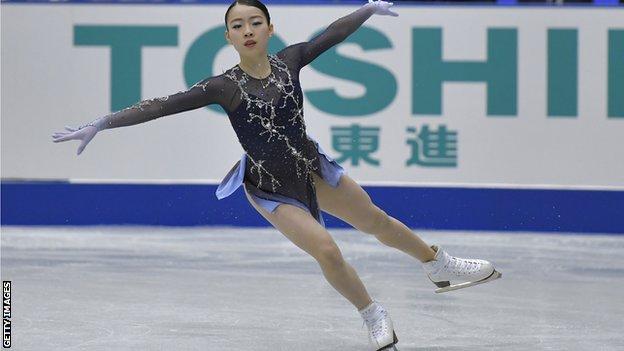 Making your international senior Grand Prix debut is a daunting prospect.
Factor in the added pressure of incorporating a triple axel, the notorious ice skating move achieved only by a select few, and the sense of intimidation is undeniable.
On Friday, 16-year-old Rika Kihira failed to land the infamously tricky jump, a feat only eight women have managed to date.
But what a difference a day can make.
Fast-forward 24 hours, and the Japanese schoolgirl proved the doubters wrong, leapfrogging from fifth to first to clinch gold in her maiden Grand Prix figure skating performance at the NHK Trophy in Hiroshima, Japan.
The teenager shocked the favourites by showcasing a dazzling women's free skate which earned her 154.72 points from the judges for a winning total of 224.31.
And if that score wasn't impressive enough, Kihira managed not one, but two triple axels.
Despite entering the competition as a wildcard, Kihira wowed the crowd by opening with a breathtaking triple axel-triple toe combination, followed by an equally impressive triple axel.
"I still can't believe it," said Kihira, who was fifth after Friday's short programme.
"I've literally never been so happy in my life. I want to hold onto this memory forever."
Japan's Satoko Miyahara took silver with a total of 219.47 points and former world champion Elizaveta Tuktamysheva of Russia clinched bronze with 219.02.
"I couldn't land a triple axel yesterday," added Kihira, who was showered with roses from the home crowd after becoming the first Japanese woman to lift the NHK Trophy since Miyahara in 2015.
"I went into practice this morning determined to get it right."
And that's exactly what she did.
What a way to make your mark on the international stage.
Ice skating's most notorious move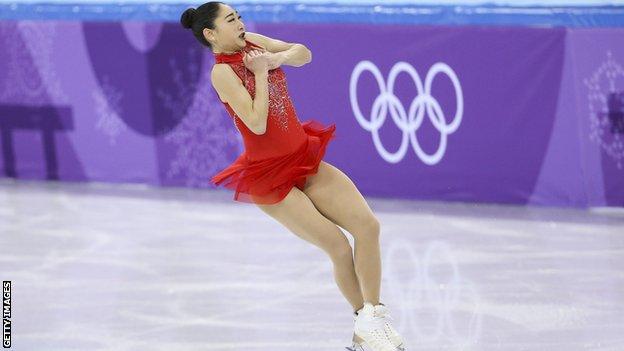 Kihira emulated the success of compatriot Midori Ito almost 30 years to the day after the Olympic silver medallist became the first woman to successfully land a triple axel in international competition at the 1988 NHK Trophy.
Three years later, two-time Olympian Tonya Harding followed suit, becoming the first American to perform the jump.
The challenging move is considered the sport's most difficult to execute, thanks to its forward-facing takeoff - meaning the skater must complete three-and-a-half revolutions before landing, compared to the usual three revolutions as in all other ice skating jumps.
A rarity in women's figure skating because of the added difficulty of an extra half rotation means the list of successful female skaters to land the infamous jump in international competition is an exclusive eight women.
Kihira is the first woman to successfully land two fully rotated triple axels in one programme on the top senior international level since Mao Asada at the 2010 Winter Olympics in Vancouver.
She also became the youngest Japanese skater to win a Grand Prix since Kanako Murakami, also in 2010.
Earlier this year at the 2018 Winter Olympics in Pyeongchang, Mirai Nagasu became the first American woman to land the triple axel jump at an Olympics.