Lizzy Yarnold: Britain's most decorated Winter Olympian retires from skeleton
Last updated on .From the section Winter Sports80
Lizzy Yarnold, Great Britain's most decorated Winter Olympian, has announced her retirement from skeleton.
Yarnold became the first British athlete to retain a Winter Games title when she won gold at Pyeongchang 2018.
The 29-year-old said she was "ready for a new chapter" and "would like to put a few more things on my CV".
"It has been an amazing 10 years of my life, and I have been lucky enough to learn from amazing coaches and be part of this team," Yarnold told BBC Sport.
"It was never just me by myself. So I can take this opportunity to thank everyone for helping me achieve my dreams.
"When I came into the sport I wanted to go to the Olympics and now I have achieved everything I could have dreamed of and more."
The former world and European champion and two-time World Cup winner had surgery for a long-standing back problem in July.
She suffered from a knee condition during her career, as well as vestibular disorder - a condition that affects the inner ear and brain, and leads to spells of dizziness.
But Yarnold said skeleton was not the reason for her operation, and that the sport had given her "more positives than negatives".
"I'm in a really good position now," she said. "I feel so much better than I did a couple of months ago. I'm in the gym most days and doing lots of yoga, which I wasn't able to do with my bad back.
"The sport of skeleton has given me many more positives than it has negatives. It's taught me about my body, how to train my body and how to push myself.
"These operations weren't caused by skeleton - I guess training hard over 10 years maybe, but I am just really grateful for being a part of it."
Yarnold's roll of honour
Yarnold's skeleton achievements
Winter Olympic Games
Gold

- 2014, 2018

World Championships
Gold

- 2015

Bronze

- 2012, 2017

World Cup
Gold

- 2013-14

Silver

- 2014-15

European Championships
Gold

- 2015
Yarnold claimed her first Olympic gold medal at Sochi in 2014, after which she was made an MBE in the Queen's Birthday Honours List, and retained her Olympic crown in Pyeongchang four years later.
That took her above Jayne Torvill and Christopher Dean and Jeanette Altwegg - who have one gold medal and one bronze each in figure skating - as the most decorated British Winter Olympian.
Yarnold, from Kent, completed a career grand slam in 2015 after adding to her first Olympic title with gold medals at the World Championships, World Cup and European Championship.
'They are the athletes of the future'
Yarnold says she would like to stay involved in skeleton following her retirement.
She acts as an athlete mentor and plans to attend December's first World Cup event of the season in Latvia to support British competitors.
The two-time Olympic gold medallist has backed those coming through through the system to emulate her achievements.
"I can see they are the athletes of the future. They will be on the podium in Beijing [2022], no doubt," she said.
"I hope I have encouraged people to believe that they can achieve gold, and records are there to be broken."
However, Yarnold has also hinted at a role in sports governance.
"I believe governance is a really important part of athletes being able to compete at their best," she said.
'I love being a voice for women in sport'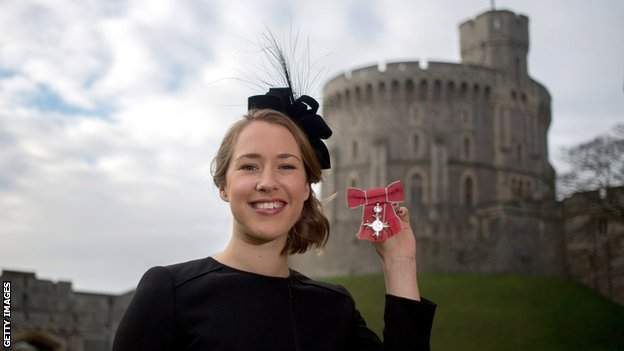 Yarnold also hopes she can use her position as Britain's most successful Winter Olympic athlete to be a voice for women in sport.
"I'm really lucky that I've been involved in a sport that has always had equal opportunities for women and being part of the Olympic movement we have always had the same funding as male skeleton athletes," she said.
"But I love being a voice for women in sport and know my journey hasn't been the same as many women in other sports.
"If I can continue to keep banging that drum for other people that is absolutely what I'll do."
Yarnold was speaking at Maidstone Grammar School for Girls, where she discussed her early aspirations in heptathlon and her participation in UK Sport's Girls4Gold campaign, which saw her make the switch to skeleton.
"I don't mind if people do sport or not, I would just encourage people to follow their own dream and to know with hard work it will bring success," she said.
"It just reminds me that I can say with complete honesty, you never know what's around the next corner for you."