Mica Moore: Winter Olympian to take bobsleigh break
Last updated on .From the section Winter Sports
Winter Olympian Mica Moore will take a break from bobsleigh after deciding to return to university.
Moore and partner Mica McNeill became the highest-placed GB female pair at a Winter Olympics when they finished eighth in Pyeongchang in February 2018.
Moore will miss the 2018-19 season but has not ruled out trying to go to the next Olympics in Beijing in 2022.
"I am hanging up my ice spikes for now but it does not mean it is over," said Moore.
"It does not mean it is the end for me in bobsleigh."
The 25-year-old Commonwealth Games sprinter will start an MSc in Sport Broadcasting and Media at Cardiff Met University and will carry on with athletics.
"I have achieved so much in bobsleigh this year and it is nice to be able to turn my hand to something else," said Moore.
"Mica was one of the first people I spoke to. It was not an easy decision because we are a team and I don't want to feel as if I was letting her down but she was so supportive."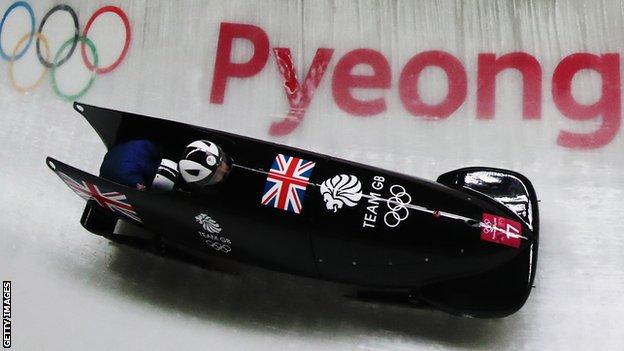 McNeill and Moore overcame the odds to even reach the 2018 Winter Olympics.
The pair were told by the British Bobsleigh and Skeleton Association (BBSA) there was no money left to fund a women's team due to a £50,000 overspend.
The BBSA continued to support three men's teams on the basis they represented better medal prospects. Moore and McNeill crowdfunded their Olympic qualification campaign, then out-performed the men's teams in South Korea.
In July, the BBSA had £5m of public funding for bobsleigh for the four years up to Beijing 2022 taken away but Moore says this was not a factor in her decision.
"Bobsleigh is in a difficult time at the moment and if anything that made my decision harder," said Moore.
"I am part of that time and have been through that difficult period with them.
"I just wanted to try other things."