Skeleton: UK Sport confirms funding after BBSA board members step down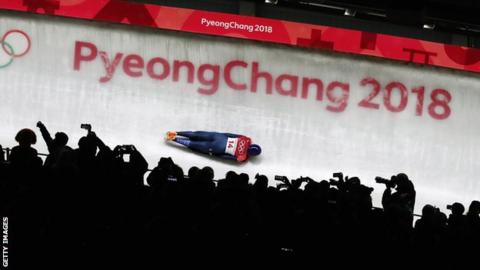 Several board members of the British Bobsleigh and Skeleton Association have stepped down in order to secure UK Sport funding for its Olympic skeleton programme, BBC Sport understands.
The BBSA was ordered to overhaul its leadership as a condition of a £7m investment going into Beijing 2022.
UK Sport confirmed on Friday all conditions had been met.
It comes after a year in which the governing body faced allegations of bullying, sexism and racism.
Bobsleigh will continue to receive no funding following a disappointing 2018 Pyeongchang Winter Games, while in an unprecedented move skeleton was told earlier this month it must accept UK Sport's ultimatum or risk losing their financial backing.
"We are pleased the British Bobsleigh and Skeleton Association has accepted in full the conditions of award for the Skeleton World Class Programme," said UK Sport chief executive Liz Nicholl.
"We have been working closely with the BBSA to confirm our Beijing 2022 investment and I would like to thank the skeleton athletes, coaches and staff for their patience and professionalism during this process."
The BBC revealed last summer that a host of athletes had complained of a "toxic atmosphere" within the BBSA, with an independent review launched into claims of bullying, sexism and racism.
The bobsleigh head coach and performance director, along with the BBSA chief executive, all left their roles within weeks of the concerns being raised.
The news of UK Sport's investment coincides with the appointment of Natalie Dunman as skeleton's interim performance director.
Dunman is taking up the role for an initial 12 months on a secondment from her position as UK Sport's head of performance.
BBSA chairman Christopher Rodrigues remains in his position, but UK Sport expects recruitment for his replacement to begin shortly.