Eve Muirhead: Every time I went on the ice I was going through a lot of pain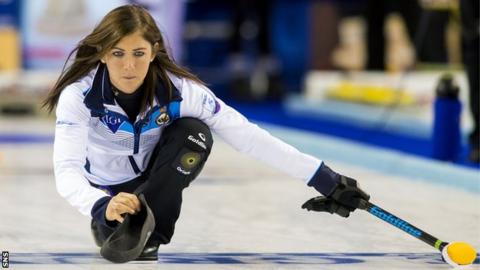 Olympic bronze medallist Eve Muirhead feared she would never slide on the ice again following hip surgery.
The Great Britain curling skip suffered debilitating pain and arthritis, and required an operation similar to the one tennis star Andy Murray had.
Now in recovery, the 28-year-old is confident she will be fit to compete in the European Championship in November.
"I was in a lot of pain the last three or four years," Muirhead told BBC Scotland.
"Every time I went on the ice deep down I was going through a lot.
"But I love the sport so much, the competitive side of it and the Olympic Games, and I wanted to build on my bronze medal.
"I put my body through that to be able to compete at [the Pyeongchang Games]."
The former World, European and Scottish champion curler, who won bronze at the Sochi Winter Olympics in 2014 and steered GB to fourth in South Korea in February, said her surgeon did not hold back about the state of her hip.
"When you're on your crutches and hearing about all the tears in your hip and that you've got arthritis - it's quite a worrying time," said Muirhead.
"It was a bit emotional and exciting, but physically to be able to slide with a lot less pain was something pretty special for me."
The Blair Atholl athlete has missed the opening event on the curling calendar, the World Cup in China, where her new-look rink competed without her.
It is the first competition for Team Muirhead since Anna Sloan's departure, ending their long run together - although Lauren Gray and Vicki Chalmers (Adams) remain, with Jennifer Dodds joining as third and Vicky Wright fifth.
"It was weird being at home watching the scores but I don't want to rush back," she said.
"I've got to follow the protocols to make sure I'm in the best condition possible and not do any further damage."