Lizzy Yarnold: Two-time Olympic skeleton champion not ruling out Beijing 2022 after back surgery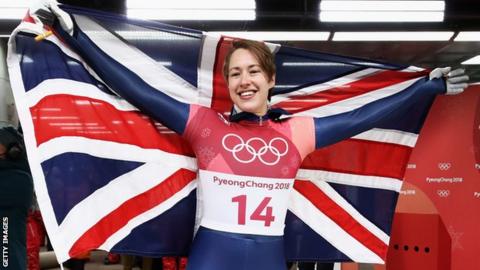 Two-time Winter Olympic champion Lizzy Yarnold is planning to return to training after recovering from back surgery, before considering if she will carry on to Beijing 2022.
Britain's most decorated Winter Olympian underwent spine surgery in July having defended her skeleton title in Pyeongchang in February.
It had been expected Yarnold, who turns 30 next month, would retire.
"Age definitely wouldn't stop me. You could definitely carry on," she said.
"It's very much like motorsport. The more experience you have it helps you."
Yarnold also had knee surgery in March after becoming the first Briton to retain a Winter Olympics title despite battling numerous physical issues, including a chest infection and dizzy spells.
"I'm only nine weeks post op. I do aqua jogging, but I don't jog or run at the moment," she added.
"I need to get back healthy - I'm looking forward to getting back training with the other athletes - and then I will think about it once I've got to that point."
Yarnold's back problem caused her "constant pain", and was being managed with spinal injections and physio, but as she was unable to sit or drive, surgery was eventually deemed necessary.
"I need to remember how much pain I was in," Yarnold added.
"My sinuses were awful. I was having to sleep upright and I couldn't sleep.
"I tried to steam my face every couple of hours, trying to flush it out. And it developed into a chest infection. Then they were worried it was pneumonia.
"I wasn't sure I could do as well as I did in that Olympics. I just had the grit to never give up."