UK Sport chief Liz Nicholl says Beijing 2022 winter sport funding a 'good news story'
Last updated on .From the section Winter Sports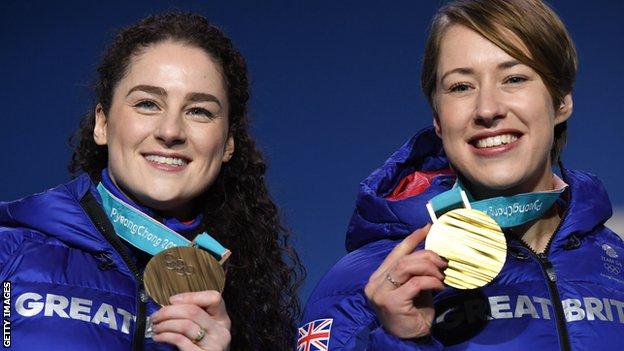 Funding for the Beijing 2022 Olympic and Paralympic cycle is a "good news story" for winter sports despite £8m cuts, says UK Sport CEO Liz Nicholl.
UK Sport will invest £24m into winter sports during the 2018-22 cycle, down from £32m for 2014-18.
The cut sees short-track speed skating, bobsleigh, figure skating and wheelchair curling lose their funding.
"There is more medal potential to come so we can at least sustain success in 2022," Nicholl told BBC Sport.
"It's a good investment. I think we're growing the medal potential. I think we'll see a real growth in ski and snowboard."
Team GB won a record five medals in Pyeongchang, matching their UK Sport target, while Britain's Winter Paralympians also hit their UK Sport target of seven medals.
Skeleton, curling and skiing and snowboard all received increases in funding.
The sports who have had their funding cut will receive £1.5m over a number of months as part of their "transition" from investment.
"It is less funding but across the five sports there is more medal potential," Nicholl added.
"It is difficult when sport is so dependent on public funding and that's why we're being sensitive in terms of the transition out of funding."
Nicholl also announced the medal targets for the Beijing 2022 Winter Olympic and Paralympic Games, with Team GB set a target of 5-12 medals while ParalympicsGB will target between seven and 11.
| Sport | 2014-18 funding | 2018-22 funding |
| --- | --- | --- |
| Bobsleigh | £5m | £0 |
| Curling | £5.66m | £6.35m |
| Figure skating | £1.24m | £0 |
| Short-track speed skating | £4.76m | £0 - medal support plan for Christie |
| Skeleton | £6.55m | £7.2m |
| Ski and snowboard | £5m | £6.75m |
| Para-ski and snowboard | £2.77m | £3.5m |
| Wheelchair curling | £1.14m | £0 |
Christie funding 'experimental'
Despite short-track speed skating's funding cut, triple world champion Elise Christie will receive UK Sport investment through a 'medal support plan' even though she did not win a medal at the Pyeongchang Olympics.
A medal support plan also currently funds badminton world bronze medallists Chris and Gabby Adcock, as well as archery duo Patrick Huston and Naomi Folkard.
Christie, 27, has been offered in the region of £500,000 for the four-year cycle.
"It's experimental. We announced it for badminton, karate and climbing," Nicholl said.
"There's an opportunity to surround Elise with a very discrete programme to see whether she really can deliver on that great potential she's got to win an Olympic medal.
"I think this sort of option - an alternative route for funding for some sports - is something that is here to stay for the future."
Funding
UK Sport:
Elite level funding - supports Olympic and Paralympic athletes to maximise their chance of medal success
Sport England:
Grassroots funding - supports governing bodies to get more people active through sport and exercise
Elite funding cuts shouldn't stop enjoyment at grassroots - Nicholl
In short-track speed skating and figure skating, UK Sport has cut elite funding to two sports with high participation levels at grassroots level - which is funded by Sport England.
More than 500 people signed up for talent identification opportunities within short-track speed skating following the Pyeongchang Games.
But Nicholl said a lack of funding at the top of sports should not affect those at grassroots level.
"When we invest in medal success to inspire the nation it is inspiring individuals to achieve in life in whatever they choose to be good at," Nicholl said.
"It shouldn't stop people enjoying that sport at a participation level because there's terrific support from home nations councils across a wide number of sports to get people active."
'We will review every year'
Nicholl said that sports could still receive funding during the Beijing cycle with annual reviews set to take place.
She also said she "hoped" funding cuts wouldn't mark the end of some of the newly non-funded sports in the UK.
"Those sports have been assessed as not having strong medal potential for 2022," she said.
Figure skating - represented by Nick Buckland and Penny Coomes in Pyeongchang - did not name any of their athletes as having medal potential.
Nicholl added that if "significant improvements" were made in sports which do not receive funding, UK Sport would "look at it".
"We were funding a talent programme in short track but there's still a possibility if they've got some really strong emerging talent that we will review that every year and could switch that back on if there's another Elise Christie coming along who could be a future medal athlete.
"There will be an annual review and if significant improvement in performance is made we can look at it each year."