Increased curling funding can help Great Britain 'get one step ahead'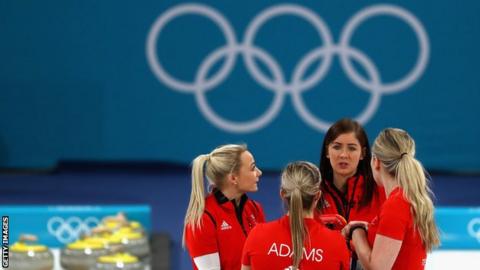 Eve Muirhead says increased UK Sport funding for curling can help Great Britain "get one step ahead" of their Olympic rivals.
Four winter sports have lost funding for the Beijing 2022 Olympic and Paralympic cycle, but curling will receive £6.35m.
Muirhead, 28, was skip at this year's Winter Games as the British team narrowly missed out on a bronze medal.
"It's really exciting news for curling," Muirhead told BBC Scotland.
"As a programme, we came so, so close to getting medals in Pyeongchang. To hear the news for curling, that can really help us really push on with our goals for the next four years and to help us as athletes; to help pick the right staff is really going to help us achieve those goals.
"Yes, we didn't get any medals, but how close did we come? I was a shot away from getting that medal [in the 5-3 defeat by Japan] and for the boys it was their first Olympic Games and for them as well coming away with fifth place is something that is really kind of creditable and was really good for the sport of curling and for Great Britain as a whole.
"It's really important that we stay chasing all the other nations' tails and, if we can, actually get one step ahead of them.
"We need to do that if we want to produce the medals."
After leading Scotland's European Championships-winning team in 2011, Muirhead became a world champion in 2013 and won a bronze medal at the 2014 Sochi Winter Olympics, adding another European gold in 2017.
The seven-time Scottish champion is currently undergoing rehab following hip surgery but expects to be competing again soon.
"As athletes, we know that we just don't expect funding to be given to us on a plate and I think that, yes, you need to perform to get that funding," she explained.
"As a programme and as athletes, I do feel like we have performed very well in the last few years.
"As full-time athletes, [the funding] allows us to push on and be in as many different competitions and events as what we need to be as athletes and what we need to do to get to the top and without funding obviously for us that wouldn't be possible.
| Sport | 2014-18 funding | 2018-22 funding |
| --- | --- | --- |
| Bobsleigh | £5m | £0 |
| Curling | £5.66m | £6.35m |
| Figure skating | £1.24m | £0 |
| Short-track speed skating | £4.76m | £0 - medal support plan for Elise Christie |
| Skeleton | £6.55m | £7.2m |
| Ski and snowboard | £5m | £6.75m |
| Para-ski and snowboard | £2.77m | £3.5m |
| Wheelchair curling | £1.14m | £0 |
"As a team, we love being role models to the younger athletes coming through.
"As a team, what we can do is be successful and for younger people to see us being successful and then hopefully inspire them to come up through in the next few years."
Wheelchair curling is one of four sports to have their UK Sport funding cut.
And Muirhead said: "It's disappointing for wheelchair curling, but they have been given transition funding, which is going to help them achieve their goal at the next World Championships, which is actually in Scotland.
"Playing in front of a home crowd's always really exciting and hopefully they can produce the goods at the World Championships and that might increase their chances to gain a little bit more funding going forward into the next Olympic Games."