Jackie Lockhart says pressure may have got to Olympic curlers in Perth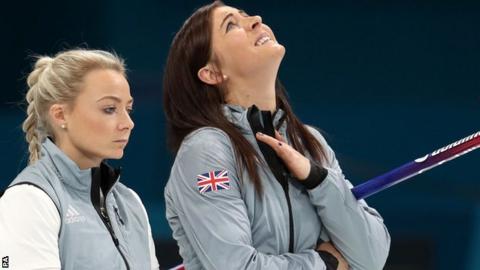 Pressure may have got to Team GB's Olympic curlers as both rinks missed out on world championship spots, former world champion Jackie Lockhart says.
Eve Muirhead's rink and that of Kyle Smith lost in the Scottish play-offs after returning from Pyeongchang 2018.
Team Fleming and Team Mouat will now represent Scotland at the worlds.
"They were struggling dealing with jet lag and were gutted they didn't get a medal - that's difficult to deal with," Lockhart said of the Olympic curlers.
"But with that and having such a high pedestal to sit on, the pressure becomes huge - and I'm not sure at the end of the day the pressure didn't get to them."
A week after returning from Pyeongchang, Teams Muirhead and Smith were defeated in national play-offs by the new Scottish champions in Perth.
Lockhart said she was disappointed for Muirhead, who claimed a bronze medal at the Sochi 2014 Olympic Games.
"The Olympic platform is enormous and I think they didn't show their brilliance, they showed small elements of it," she added.
"Eve took every opportunity to make this successful - she changed her coach, her line-up, did additional training, they changed some of their technical ability and it was working for them as they won the Euro championships and they were feeling successful.
"I remember her coach saying that if you want something you've never done, then you've got to go and do something you've never done to make it better - they did all that and it didn't work. And that's just sport."
Hannah Fleming's rink beat the team who finished fourth in South Korea 9-6 and 9-7 in a best of three so will represent Scotland at the World Championships in North Bay, Canada, from 17-25 March.
And in the men's game, Bruce Mouat led his team to the national title with a 9-3 deciding victory against Kyle Smith's foursome, who finished fifth in Pyeongchang.
He will lead his curlers in Las Vegas from 31 March-8 April to contest their first world title, having already become the youngest skip to win a grand slam at the Boost National in November, aged 23.
Lockhart thinks that a desire to overtake Muirhead's team will have pushed Fleming to fight even harder.
"While Eve was preparing for the Olympics, Hannah and her team and her coach Nancy Smith were putting in a lot of work behind the scenes; they were out in Canada and on the World Curling Tour and they certainly have stepped up to the mark," she added.
"They've definitely taken a step up the ladder to be much closer to challenging Eve at every turn and for ladies curling in Scotland that's really good. As long as they continue with that performance, they should do pretty well at the worlds.
"[Team Fleming] could be vying for Olympic spots in the next four years - but I'm under no illusions that Eve Muirhead will let them take her spot because she'll go and do something else to make herself better. That's just the type of person she is."
And with regards to Team Mouat, Lockhart added: "Without taking away from our GB Olympic team, who came back and were tired, I still think they were beaten by a better team who technically were perfection."
Highlights of the Scottish World Championship play-offs will be shown on BBC Two Scotland - the women's event on Tuesday 6 March (23:15 GMT) and the men's on Thursday 8 March (23:15).