Ski Sunday is back and will be celebrating its 40th anniversary
Last updated on .From the section Winter Sports
Ski Sunday is back on 10 December for its 40th season of action on snow.
And as anticipation grows towards next year's Winter Olympics in South Korea, the programme will feature British and international medal hopes including Dave Ryding, Katie Ormerod and James Woods.
The Ski Sunday crew have highlighted what they are most looking forward to in this series.
Graham Bell
For me, the highlight of any Ski Sunday series is Kitzbuhel. It's the biggest race of the year, an incredible downhill on the Hahnenkamm course and the toughest challenge in alpine racing. However, this season, I'm going to get all nostalgic and pick something very different.
Ski Sunday is about to turn 40 years old, and to celebrate, the BBC Philharmonic put on a special performance of our iconic theme tune.
I remember sitting glued to the telly on Sunday afternoons waiting to watch my heroes race and for me the Ski Sunday theme tune is the soundtrack to the winter. In fact, rather sadly you might think, it is the ringtone on my phone!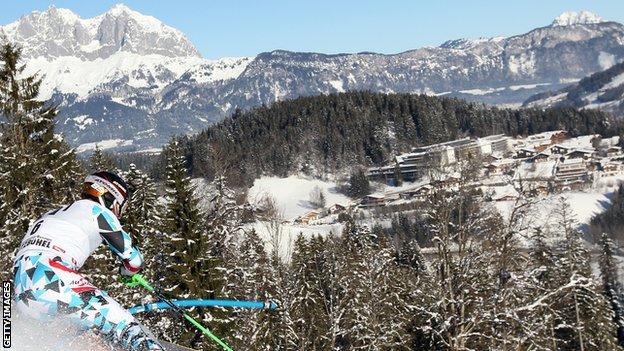 Listening to it played live with the orchestra in full flow was a real privilege. Sadly, the original composer, Sam Fonteyn, died in 1991, but I met up with his son, Nic, and learnt a little more about how and when the track was written.
Sam was a staff composer for music publishers Boosey and Hawkes, and Pop Looks Bach was one of hundreds of singles he wrote, never knowing where or when they would be used.
It came as a complete surprise when he heard it on television. Forty years later, social media tells us every week that the theme tune is as popular as ever - what better way to start the series, and celebrate a very special birthday.
Chemmy Alcott
In all that time, Ski Sunday has never been able to celebrate a British winner in a World Cup race - but that might be about to change.
My old team-mate Dave Ryding took an amazing second in the Kitzbuhel slalom in January, and he came really close to going one better in the season-opener in Levi last month. I have been to catch up with him where it all began - an extremely modest dry slope in what he affectionately calls the Lancashire Alps.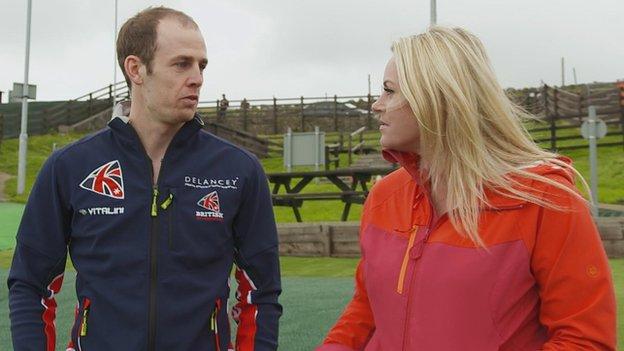 Back in Dave's day, the greatest challenge Pendle presented were the grazing sheep he had to slalom his way around. They've since put up fences to keep the run clear, but to think that he's come from racing on flat toothbrush to the steep icy pitches on the World Cup, and is challenging for medals, is pretty incredible really.
Encouragingly, Dave still sees room for improvement in his technique and results. I know how hard he works and I'm quietly confident we might see that first British World Cup win this year, and who knows, maybe an Olympic medal too. It's really, really exciting. Come on Dave.
Jenny Jones
Team GB have a few Olympic medal contenders on the freestyle side too, and probably the best chance lies with snowboarder Katie Ormerod. She's going to ride slopestyle and in big air, the competition making its debut at the Winter Olympics.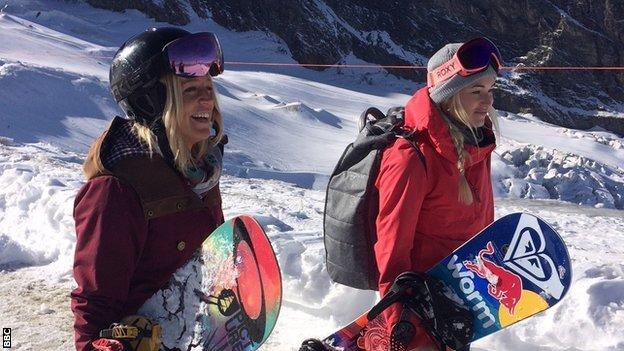 I remember Katie when she was about eight years old and already super talented. She always had a bag of sweeties in her pocket! Now she's all grown up and things are getting really serious for her, and I have been to spend a few days with her in a training camp in Switzerland.
It's a really awkward time just before a big competition. You want to push yourself, learn new tricks and progress your riding, but the last thing you want is to get injured and miss out altogether.
Katie was so, so close to making the team to go to the Winter Olympics in Sochi four years ago and not making it took her a while to get over. She's still only 20 and will hopefully have a couple more Olympics left in her, but I think this is her time.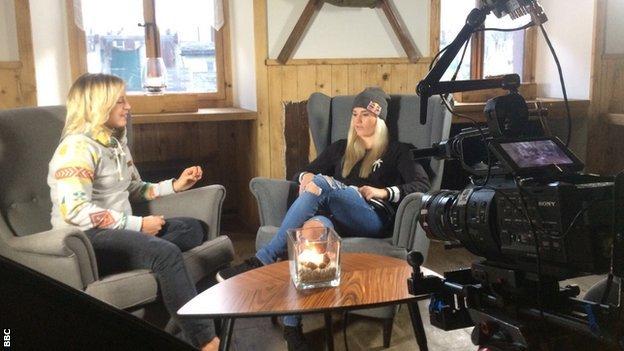 Katie's in form, she knows she's one of the best riders in the world, and she's got two genuine chances of taking a medal in Pyeongchang. The big question is whether she can handle the pressure that's already ramping up around her, and from what I've seen she can.
Tim Warwood
The GB Park and Pipe crew have another genuine medal contender in Sheffield shredder James Woods, who'll be competing in ski slopestyle.
His enthusiasm for his sport is pretty infectious. I don't think he'd mind me saying it's taken him a while to really embrace the Olympics because the X Games has traditionally been the pinnacle in action sports. That said, Woodsy, as he's known, is ridiculously competitive, really patriotic and unbelievably talented. I think he'll be charging come Pyeongchang.
You'll see the Woods interview in Ski Sunday's first programme on 10 December and look out later in the series for another Sheffield skier that you may not have heard of, Paddy Graham. It's a little reminder that action sports aren't all about the Olympics and formal competition.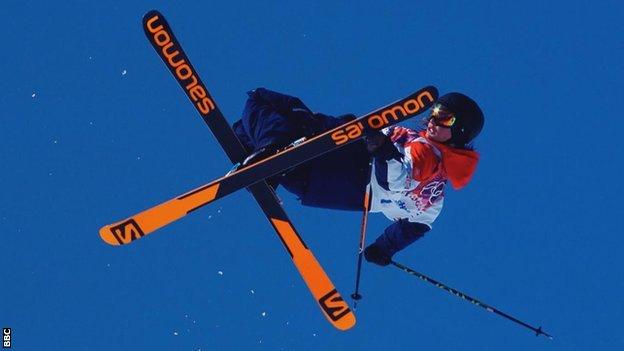 Sometimes they're just about seeing what's humanly possible, and that's what Paddy had in mind when he set out to break the record for air-time on a freestyle jump. Now, I'm not bragging when I say I've seen my share of big kickers but what Paddy had built in Livigno in Italy was eye-poppingly massive.
I found myself just gawping at it, and it was kind of hard to fathom anyone actually hitting it. It's fair to say Paddy and his crew have considerably more on me in the bravery stakes, and watching their session unfold was absolutely spectacular. It's definitely worth a watch.
Ed Leigh
It's really easy to get swept up in the excitement and hype that surrounds snow sport - it's like an adrenaline intravenous drip that steadily finds its way into everyone. It doesn't matter if you're participating or consuming it, as winter sets in, so does the anticipation.
And of course the Winter Olympics is a massive part of that - alongside Team GB's hopes in freestyle, I'm really looking forward to seeing whether a couple of veterans can defy the odds and turn back time in their events. Despite being three years older than his nearest rival, Shaun White is in the form of his life and will travel to Pyeongchang searching for a third gold medal in snowboard halfpipe.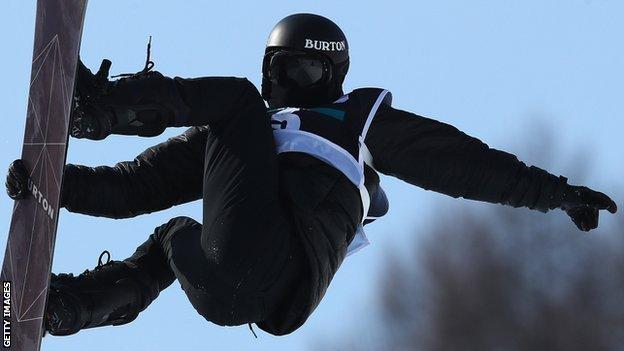 There's also Lindsey Jacobellis. It was nearly 12 years ago she threw away gold in snowboard cross' debut at the Games in Turin. Pyeongchang is almost certainly her last chance for redemption, closure, and most importantly the only thing missing from her trophy cabinet - an Olympic gold medal.
But it's a story away from elite-level competition that I'm most excited about bringing to Ski Sunday's screens this winter. Earlier this year a girl called Rachel got in touch with me to ask some advice. She has a myriad invisible health issues - among other things she's autistic, hyper sensitive to sound and is hyper mobile, which makes all her joints really loose in their sockets so they can dislocate at any time.
Daily life tasks are a real challenge for Rachel in about every way imaginable, but despite this she has found joy in snowboarding. Snow dampens sound and so allows her to relax without the hyper-sensitivity to noise, and the thrill of getting down the run at Hemel Snow Centre outweighs the pain. And now Rachel's about to take her first trip snowboarding abroad.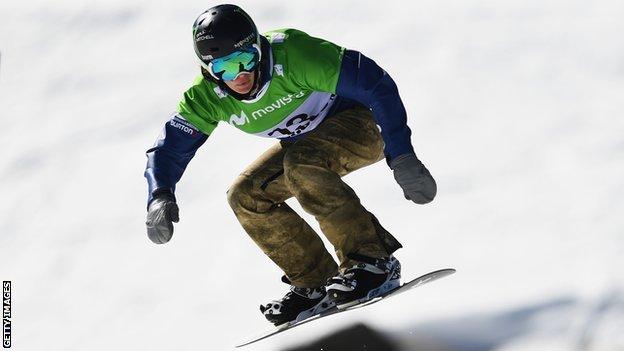 It will be a huge step outside her comfort zone and take a massive effort for her just to go somewhere new, especially without the assurance of her assistance dog Rio by her side. But I'm hoping that for Rachel the reward of overcoming these fears and riding in the mountains for the first time will make the effort more than worth it.
Rachel might not get much further than the nursery slopes, but I'm pretty confident the joy of realising a childhood dream to visit real snow will be just as thrilling for her as anything we see at the Winter Olympics.