Four Russian athletes banned by IOC from Olympics for doping at Sochi 2014
Last updated on .From the section Winter Sports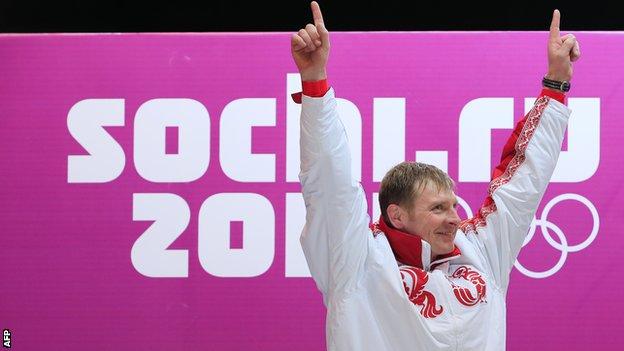 Russia has been stripped of two golds and a silver from the 2014 Winter Olympics after doping violations.
The president of Russia's bobsleigh federation Aleksandr Zubkov, 43, who won gold in the two-man and four-man event, has been disqualified.
Sochi 2014 silver medallist Olga Fatkulina and Alexander Rumyantsev, both speed skaters, and bobsledder Olga Stulneva have had their results voided.
The quartet have also been banned for life from any future Olympics.
All four were investigated following last year's publication of the McLaren Report, which detailed a state-sponsored doping programme in Russia.
The ruling will promote Great Britain from fifth to fourth in the four-man bobsleigh, and GB could be awarded a bronze medal if an ongoing investigation into a second Russian team, who finished fourth, finds them guilty of anti-doping rules.
The International Olympic Committee will rule on whether Russia can compete at the 2018 Winter Olympics at its next meeting from 5-7 December.
In November 2015, Russia was banned from international athletics after claims of state-sponsored doping.
Former world champion Russian hurdler Sergey Shubenkov had to compete as a neutral at the IAAF World Championships in London in the summer, winning silver.
He told BBC Sport that there should not be a "blanket ban" for Russia's Winter Olympians.
"Everybody who is not involved in the scandal should be allowed to compete wearing their national colours," he said.
Analysis
BBC Olympic sports reporter Nick Hope
The disqualification of Zubkov is the first step towards the GB men's four-man team claiming the Sochi Olympic bronze medal they feel is rightfully theirs.
Whilst the investigation into athletes from the 'Russia 2' team - who were initially fourth - is ongoing, few in the sport envisage that they will be moved up into third position and that it is simply a matter of time before Britain fill the final podium spot.
That would be Team GB's fifth medal of the Games and thus make Sochi 2014 their best-ever Winter Olympics.
That said, Russia will contest any and all sanctions imposed by the International Olympic Committee at the Court of Arbitration for Sport - so while there is an appetite to reallocate medals by the Pyeongchang Games in February, realistically it could take much longer.
One man who will not be able to enjoy an improved medal as a result of today's announcement though is USA's Steven Holcomb, who passed away earlier this year. His two and four-man teams should be upgraded from bronze to silver medals in both events.