Winter Olympics: GB bobsleigh pilot Donna Creighton 'gutted' to miss out on dream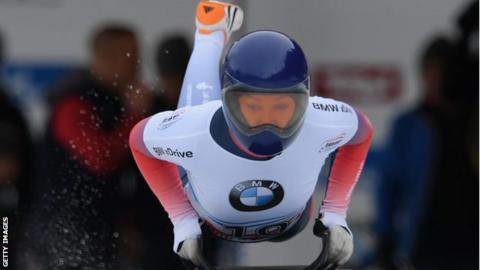 Ex-Great Britain skeleton slider turned bobsleigh pilot Donna Creighton has retired from the sport after failing to secure a £30,000 crowdfunding target.
Creighton was hoping to compete at the 2018 Winter Olympics in Pyeongchang, South Korea, between 9-25 February.
She was able to raise just over £12,000 after British Bobsleigh withdrew funding in the women's programme.
"I'm gutted not to have fulfilled my dream of competing at an Olympic Games," said Creighton, 32.
Creighton began competing in skeleton for Britain in 2004 and was enticed over to bobsleigh after quitting her previous sport at the end of last season.
She received an anonymous £10,000 donation within a couple of hours of launching her own funding campaign in September.
However, Creighton has raised just another £2,000 over the course of the last two months.
The £12,000 was not enough to finance the further training she required after transitioning from skeleton to bobsleigh, or support a season of racing on the second-tier Americas and Europa Cup circuits.
Fellow bobsleigh athletes Mica McNeill and Mica Moore were able to raise more than £30,000 to fund their participation in the World Cup events and finished an impressive eighth in the season-opening event in Lake Placid, USA.
"Two things I have realised over the last nine months are you are never too old to try something new or dream a new dream," added Creighton.