Winter Olympics 2018: GB bobsleigh chief Richard Parker to leave role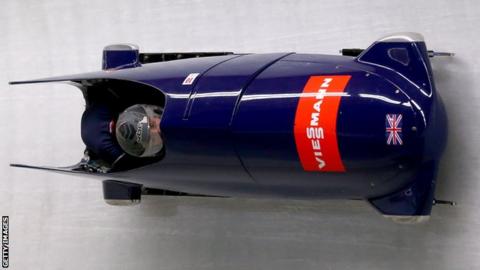 British Bobsleigh can "now partially support" a women's team following the departure of the sport's chief executive Richard Parker.
His exit follows those of the head coach and performance director.
On 19 September, the British Bobsleigh and Skeleton Association (BBSA) said it was withdrawing funding from women but continuing to fund three men's teams.
A statement said the BBSA can now help a team "press for qualification for February's Winter Olympics".
Bobsled drivers Mica McNeill and Donna Creighton had launched crowdfunding pages in an effort to raise money to enable them to compete on the World Cup circuit, and try to reach next year's Olympics in Pyongchang.
McNeill has already reached her target of £30,000.
Parker's departure comes after a turbulent few months for the BBSA. In June, the BBC revealed a group of elite athletes had complained of a "toxic atmosphere" in the sport.
In response, an independent review was launched into allegations of bullying, racism and sexism.
Both performance director Gary Anderson and head coach Dominik Scherrer subsequently stepped down. There is no suggestion of any wrongdoing by either.
Parker leaves after three years in his role, which the BBSA says will not be filled.
A BBSA statement added: "Mr Parker had recently proposed a new structure for the next Olympic cycle but has left earlier than originally planned to help reduce central costs and ensure that maximum available resources can be focused on our athletes and their journey to February's Winter Olympic Games."
The BBSA was the best funded of Britain's winter sports governing bodies, receiving about £10m from UK Sport for the 2014-18 Olympic cycle, with £4.5m for the bobsleigh programme and £5.5m for the skeleton programme.
However, UK Sport cut its support by £50,000 this summer. And last week, BBC Sport learnt that British Bobsleigh was to withdraw funding from its women's team - just five months before the Winter Olympics.
McNeill - the top female driver - said she was "gutted and shocked" to be told by bosses there was no money left to fund her because of "an overspend".
In a statement on Thursday, UK Sport said it was "pleased" that the BBSA had "found a solution to its financial challenges".
Chief executive Liz Nicholl added: "It has been very disappointing that the governing body has found itself in this situation so close to a Games.
"When UK Sport makes a four-year investment in a sport, it is aimed at enabling decisions on support for athletes to be made on the basis of performance potential and not affordability.
"We will be working even more closely with the new leadership team at the BBSA to monitor its financial management while continuing our work with bobsleigh and across the high performance system to drive up standards of leadership, governance and culture."