Mica Moore: Welsh bobsleigher amazed by crowdfunding success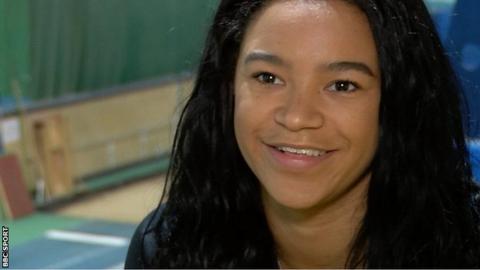 Welsh bobsleigher Mica Moore says she is amazed after a crowdfunding appeal hit a target of £30,000 after the national governing body withdrew funding.
The money raised via public donations means Moore and team-mate Mica McNeill, both 24, can compete at the World Cup.
The pair hope to qualify for the Winter Olympics in Pyeongchang, South Korea in February 2018.
"It's amazing to have people's support," said Moore, from Newport.
"I can't begin to think how to thank people. It's so overwhelming to think everyone has put money in towards us to achieve our Olympic dream."
The British Bobsleigh and Skeleton Association (BBSA) has withdrawn funding for a women's bobsleigh team five months before Pyeongchang 2018.
McNeill announced the crowdfunding appeal on 19 September and the target was achieved in less than a week.
Moore took breaks in training on Monday evening to check how the appeal was progressing.
"I've been trying to sneak off between reps to see how it was going and it was been creeping up massively every time," she said.
"I'd like to say to people who may not have been able to donate we're so grateful for their kind words as well."
McNeill and Moore, who won the world junior title in January, said the women's team had been told there was "no money" for their programme.
The British Bobsleigh and Skeleton Association, which faced accusations of racism earlier this year, is the country's best-funded winter sport governing body, and intends to continue supporting three men's teams on its performance programme.
In a statement last week, it said: "The GB Bobsleigh programme is currently focusing resources on winning medals at the 2018 Winter Olympics in Pyeongchang.
"We are actively seeking commercial funding to further support our world-class programme and we will continue to do so."
Olympic skeleton champion Lizzy Yarnold last week accused the governing body of "mismanagement" over the decision to withdraw funding.