Elise Christie aims for Pyeongchang gold after triple world title win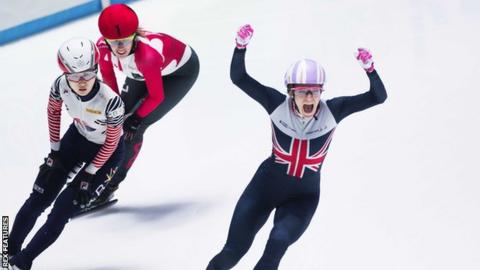 British speed skater Elise Christie is "willing to throw away the safe option" to win gold at the Winter Olympics.
She starts qualification for the 2018 Pyeongchang Games at the Short Track World Cup in Budapest on Thursday.
The Scot, 27, was penalised in all three of her events at Sochi 2014, but became triple world champion in March.
"If I lose a silver medal while trying to get a gold one, I'm not too bothered. All I really want is the gold," Christie told BBC Sport.
"I'd be willing to throw away the safe option to win. It's a great place to have got to before the Games."
Christie endured a torrid time at the Games in Russia three years ago.
She received death threats on social media from South Korean fans who believed she had caused their favourite Park Seung-hi to crash in the 500m final.
Penalties in the 1,000m semi-final and 1,500m heats followed, and the Livingston-born skater admitted she was considering her future in the sport.
But she made history earlier this year by becoming the first British woman to win a world title by taking gold in the 1500m in Rotterdam.
Christie replicated the feat in the 1,000m, won bronze in the 3,000m and claimed the overall title.
"For me, the World Championships were my redemption point," she said.
"Physically I've always been able to push myself to the limits and been in a good place but mentally I've struggled - especially after Sochi.
"I didn't have the level of experience I needed to be confident. But now I'm happy to sit here and say: 'Yeah, I can win a gold medal.'"
The opening World Cup event in Hungary runs from 28 September to 1 October, followed by competitions in the Netherlands, China and South Korea.
The best three results from each nation will decide Olympic qualification, with teams then picking individual athletes.
Britain will take a maximum of three men and three women to the Winter Olympics for the individual events, and will also attempt to qualify for the five-person relay.
"Physically, I'm in the best form I've ever been," added Christie. "I'm skating faster than I was in the lead-up to the World Championships. I can repeat world record pace again and again.
"Mentally, I'm tired. It's a drain but I'm confident in myself and I feel like if I can deal with the slog of it now in the long term it will bring me massive rewards."