World Women's Curling Championship: Scotland take bronze as Canada win gold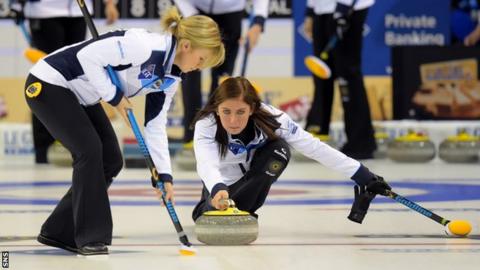 Scotland beat Sweden 6-4 to take bronze as Canada won gold at the World Women's Curling Championships.
Rachel Homan's rink beat Anna Sidorova's European champions, Russia, 8-3 in the final in Beijing.
Eve Muirhead's Scots had lost 8-5 to Anna Hasselborg's Swedes in the third-versus-fourth play-off on Saturday.
After gaining revenge, skip Muirhead told World Curling: "It's been a tough week, a lot of ups and downs. To come away with a medal is satisfying."
The Scotland quartet of Muirhead, Anna Sloan, Vicki Adams and Lauren Gray had finished fourth in the round-robin behind Canada, Russia and Sweden.
After Canada beat Russia in the first versus second play-off on Friday, the Swedes beat the Scots but then faced a re-match after losing their semi-final 9-3 to Russia.
Muirhead's rink found themselves tied at 4-4 after eight ends in Sunday's bronze medal match.
But Muirhead's final stone in the ninth end was a perfectly weighted draw and Hasselborg failed in her take-out attempt as her stone glided through the paint.
That edged Scotland ahead for the first time to take a 5-4 lead into the last end after the steal of one point.
Scotland got an early stone on the button in the final end.
And, after playing defensively with guards, Hasselborg's attempted take-out again failed to allow Scotland to take another single point and wrap up victory.
"That was a really strong team performance out there," added Muirhead, whose team will hope to contend for a medal at next year's Winter Olympics in Pyeongchang, South Korea.
"We came out fighting for that medal because we knew we really wanted it.
"We played a fantastic last end. I am really pleased.
"That was my first bronze, so I've got world gold, silver and bronze now, so I'm delighted.
"It's good to have a solid Worlds going into the Olympic Games."
Sunday's results
Bronze medal match: Sweden 4-6 Scotland
Final: Canada 8-3 Russia
Saturday's result
3rd v 4th play-off: Sweden 8-5 Scotland
Semi-final: Russia 9-3 Sweden
Friday's result
1st v 2nd play-off: Canada 7-3 Russia
Final round-robin standings
Canada 11-0 (qualified)
Russia 8-3 (qualified)
Sweden 8-3 (qualified)
Scotland 7-4 (qualified)
USA 6-5
Korea 5-6
Czech Republic 5-6
Switzerland 5-6
Germany 5-6
Italy 3-8
China 2-9
Denmark 1-10