Elise Christie: GB skater out of second World Cup event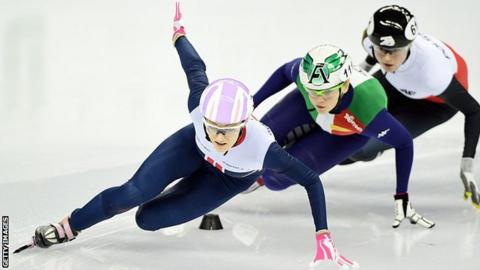 British short track speed skater Elise Christie has been ruled out of a second World Cup because of concussion, but is confident she will race in the World Championships next month.
Christie, 26, was unable to compete in Germany last week and will now miss this weekend's event in Belarus.
"I've had some problems with concussion, so haven't been able to race but I'm getting better," she said.
"These things take time and my focus is the World Championships."
Christie holds the number one ranking this season in the 500m and is second in the 1,000m.
She has won three 500m and two 1,000m World Cup gold medals this season.
The Scot said: "I'm feeling really confident on the ice at the moment, and feel like I have a presence, which is a good feeling. It's the best form I have ever been in for sure."
European bronze medallist Charlotte Gilmartin won her first World Cup medal of the season in Dresden last weekend and will lead the team again in Minsk.
The World Championships take place in the Netherlands from 10-12 March.