Jamie Nicholls: British snowboarder second in World Cup slopestyle event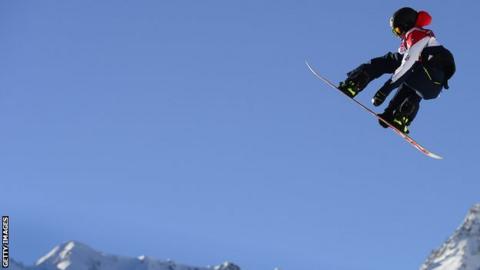 British snowboarder Jamie Nicholls claimed his first podium finish of the World Cup season with second place in the slopestyle event in Italy.
Belgium's Seppe Smits scored 88.30 points to win, with 23-year-old Nicholls 0.40 behind on 87.90.
"It's been a tough couple of weeks with a little injury, but it was a good day at the office," said Nicholls. "I can't wait for the next few weeks."
His fellow Briton Billy Morgan was fourth in Seiser Alm, scoring 84.40.
Some of the world's leading competitors were missing as they are competing at the X Games in Aspen, Colorado.
Nicholls' best slopestyle result came last March, when he secured the first World Cup win of his career in the Czech Republic.
He is the third British snowboarder to record a top three World Cup finish this season. His cousin Katie Ormerod claimed her first big air title in Moscow while Morgan finished third in slopestyle in Monchengladbach in December.
British freestyle skier James Woods is at the X Games and qualified for the slopestyle final in first place with a score of 94.0. The final is at 18:00 GMT on Saturday.