Europa Cup: GB's Bruce Tasker & Toby Olubi win bobsleigh silver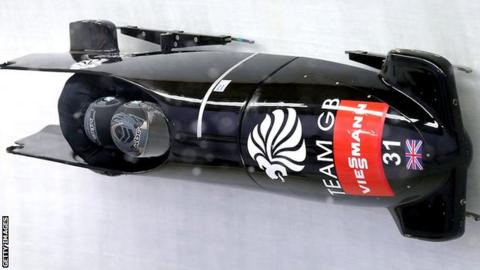 Great Britain's two-man bobsleigh team of Welshman Bruce Tasker and Englishman Toby Olubi won silver at the Europa Cup in Altenberg, Germany on Saturday.
They were 0.23 seconds behind Lativa's Oskars Kibermanis and Daumants Dreiskens who finished in a time of one minute 51.18secs.
Meanwhile in the second round of the World Cup at Lake Placid, GB's Lamin Deen led his four-man team to sixth.
GB's Mica McNeill and Mica Moore were last in heat two of the women's event.
McNeill eventually righted the sled after it had tipped over to claim the points for finishing and move up to joint 10th in the standings.
Deen and his crew of Mark Lewis-Francis, Andrew Matthews and Tremayne Gilling now lie sixth in the standings.
On Friday, the two-man bobsleigh team of Deen and Judah Simpson finished 15th, 1.43secs behind gold medal winners Steven Holcomb and Sam McGuffie of the United States.
Deen and Simpson lie 17th in the World Cup rankings on 184 points, 118 points behind leader Justin Kripps and and Jesse Lumsden of Canada.
The third round of the World Cup takes place on the weekend of 6-7 January 2017 in Altenberg.