Katie Ormerod and Billy Morgan: GB snowboarders on Big Air World Cup podium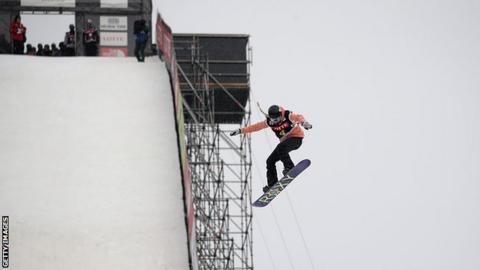 British snowboarders Katie Ormerod and Billy Morgan celebrated top three finishes at the Big Air World Cup in Monchengladbach, Germany.
It was Ormerod's second World Cup podium of the season and Morgan's first.
Ormerod put down solid runs in the final but was beaten into second place by Austria's Anna Gasser, who has won all three World Cups so far.
Morgan claimed a bronze medal and a third top 10 finish this season.
Ormerod she took bronze at the Olympic test event in South Korea last week, and she said she was "extremely happy" with her performance in Germany.
"It's so awesome that two Brits were on the podium at this event with Billy grabbing third place in the men's event as well," she said
Morgan agreed with his compatriot, saying it was "epic" to win a medal alongside Ormerod.
"I had an epic day riding, it was a lot of fun and getting a podium is the icing on the cake," he said.
With only six women and 10 men reaching the final, Aimee Fuller missed out after coming ninth in qualifying, while Rowan Coultas was 12th and Jamie Nicholls was 20th.
Big air will make its Winter Olympic debut at Pyeongchang, South Korea, in February 2018.