European Curling Championships: Eve Muirhead's Scotland top rankings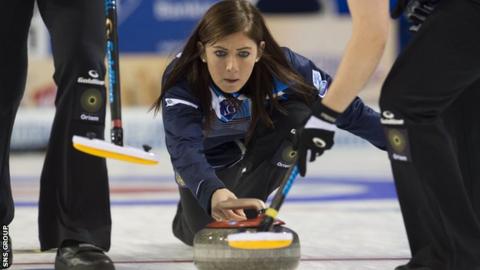 Eve Muirhead's Scotland rink continue to top the standings at the European Curling Championships in Glasgow with five wins from five.
Last year's runners-up eased to a 10-4 victory over Finland and followed that with a 4-3 success against Switzerland.
Meanwhile, Scotland's men moved up to a share of fourth place after a tense 6-5 win over the Swiss.
Skip Tom Brewster produced an immaculate last stone to the button to steal the final end.
It was the first loss for the Swiss at Braehead Arena and a timely tonic for the Scots, who suffered an extra end 7-6 loss to Austria on Monday morning.
"That was really hard fought," said Brewster. "Last night we hung in and during this game we said 'just be patient, just like last night'. For whatever reason we weren't throwing it as cleanly and it got a little bit nervy.
"But a win's and win. It's great to be playing in front of a home crowd. It's a lovely arena and the noise goes all round - it's fantastic."
Muirhead's rink take on Germany and Czech Republic on Tuesday, with the men up against Finland and Germany.
Men's Round Robin, Division A
Standings: Norway, Switzerland, Sweden (4-1), Italy, Russia, Scotland (3-2), Austria (2-3), Denmark, Germany (1-4), Finland (0-5).
Women's Round Robin, Division A
Standings: Scotland (5-0), Czech Republic, Sweden (4-1), Denmark Germany, Russia (3-2), Switzerland (2-3), Finland (1-4), Italy, Norway (0-5)