European Curling Championships: Scots can be extra special - Eve Muirhead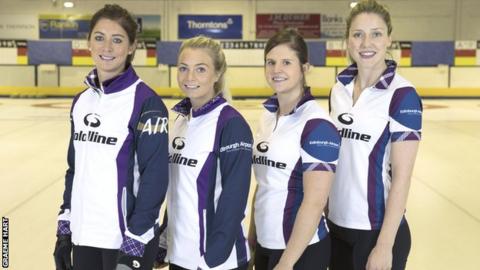 Eve Muirhead believes her rink are "more than capable" of being European Curling Champions later this month.
This year's championships will take place at Renfrewshire's Braehead Arena from 19-26 November, and on home ice they have the potential to be "extra special", claims the Scotland skip.
"Not many people get the chance to experience playing in a big tournament in front of a home crowd," she said.
Muirhead will be competing in her ninth European Championships.
Last year her rink lost to Russia in the final, but victory over Hannah Fleming's rink at last month's European Playdowns at Perth's Dewars Centre means she has another chance to clinch the main prize, despite the stiff competition.
"We'll have to perform well to do well," Muirhead told BBC Scotland.
"Every year other teams are getting stronger. The Swedes, Swiss and the Russians, though, are always the ones to watch."
Scotland's European curling representatives
Team Muirhead
Team Brewster
Eve Muirhead (skip)
Tom Brewster (skip)
Anna Sloan
Glen Muirhead
Vicki Adams
Ross Paterson
Lauren Gray
Hammy McMillan
Kelly Schafer (alternate)
Duncan Menzies (alternate)
Team Muirhead welcome Anna Sloan, who has been out of action since suffering a serious knee injury in March, back for these championships.
Sloan, who had surgery in May, admits she is "pleased and relieved to be back 100% fit".
"I was an impatient patient," she told BBC Scotland. "It's a massive year and I was worried about being out for so long."
Tom Brewster's rink will represent Scotland's men at the European Championships and he too is excited about the prospect of competing on home ice.
"I played in the World Junior Championships in Perth in 1995, so I'm really looking forward to playing in front of a home crowd," he said.
Brewster beat David Murdoch in the play-offs for the right to represent Scotland at these championships so knows his rink is in good form.
He said: "We're quietly confident. We'll give it our best, but we try not to look too far ahead."
The European Championships act as qualifiers for the World Curling Championships, with the top eight teams going through from the men's and the women's competitions.