Curling: Silvana Tirinzoni's rink wins Glynhill Ladies International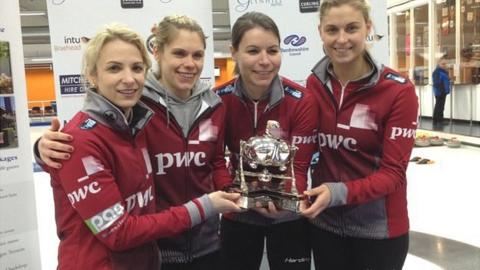 Switzerland's Team Aarau pwc, led by Silvana Tirinzoni, won the ninth Glynhill Ladies International curling tournament at Braehead Ice Rink.
The world number five rink defeated Margaretha Sigfridsson's Sochi Olympic silver medallists 8-2, having beaten the European champions, skipped by Anna Sidorova, in the semi-final.
"There were so many good teams playing in this event," said Tirinzoni, 36.
"I am so happy at how my team-mates played. It's just a great few days."
The victory earns Tirinzoni valuable ranking points in the Curling Champions Tour and boosts her team's World Curling Federation ranking with the World Championships in Saskatchewan in March on the horizon.
"You have to play your 'A' game against these teams," she added.
"We will try everything to be back next year. It is one of my favourite events on the tour.
"We are away 12-13 weekends a year and in Canada four or five times a year.
"It is a little bit exhausting but we love what we are doing. We are having a great time.
"Our goal is to go to the World Championships but that's not so easy coming out of Switzerland.
"We have two or three very good competitors so we have to beat those first. We will train very hard to make our dream come true."
Skip Tirinzoni and her rink of Manuela Siegrist, Esther Neuenschwander and Marlene Albrecht were the most consistent team across the four days of competition, which is organised by a group of local curling enthusiasts.
They won all their round-robin matches in Section A of the 24-team tournament, defeating Sweden's Sigfridsson, Czech Republic's Anna Kubeskova, Norway's Kristin Moen Skaslien and two of the six Scottish rinks, led by Sophie Jackson and Lauren Gray.
On a busy final day they proved too strong for fellow Swiss Team Uitikon Waldegg, skipped by Isabelle Maillard, winning 8-2, before defeating Russia's Sidorova 7-3.
Sigfridsson's rink had to play the final with only three players because fourth Maria Prytz was unwell.
And they were on the back foot immediately when Tirinzoni made use of the hammer to take a two-shot lead after the first end. The Swedes clawed it back to 2-2 straight away before two attritional blank ends.
The final came to life when in the fifth end when a slight misjudgement by Christina Bertrup with a take-out allowed Tirinzoni to score three shots.
And, with the Swiss lying with four shots in the house before each team's final stone, Bertrup was desperately unlucky to slide a shot between the Swiss rink's two closest stones.
With the Swiss stretching their lead to 8-2 with two ends remaining, Sigfridsson, making her debut in the event, conceded the match.