European Curling Championships: Scotland win twice in Switzerland
Last updated on .From the section Winter Sports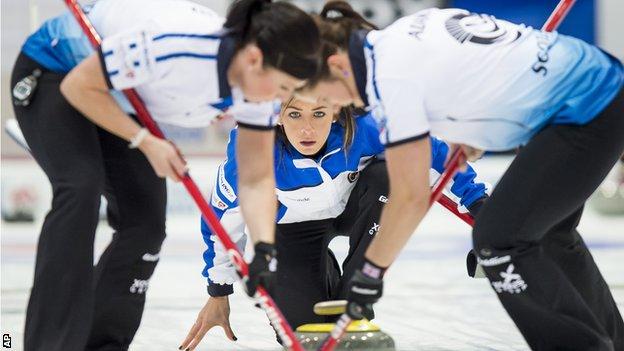 Scotland's women bounced back from a losing start to earn two wins on the second day of the European Curling Championships.
Eve Muirhead's rink beat Latvia 10-5, then overcame the Czech Republic 9-4, having lost to Denmark on Saturday.
The Scots face hosts and holders Switzerland, then Russia, on Monday.
In the men's event, David Edwards's rink could not match their two wins on the first day, losing 8-6 against the Latvians, then 8-5 against the Swiss.
They play Germany on Monday.
Standings

Men

P

W

L

Women

P

W

L

Sweden

4

4

0

Finland

3

3

0

Switzerland

4

3

1

Russia

3

3

0

Czech Republic

4

2

2

Denmark

3

2

1

Germany

4

2

2

Scotland

3

2

1

Italy

4

2

2

Switzerland

3

2

1

Norway

4

2

2

Germany

3

1

2

Russia

4

2

2

Latvia

3

1

2

Scotland

4

2

2

Sweden

3

1

2

Latvia

4

1

3

Czech Republic

3

0

3

Denmark

4

0

4

Estonia

3

0

3