Curling: David Murdoch eyes more Team GB Olympic glory
Last updated on .From the section Winter Sports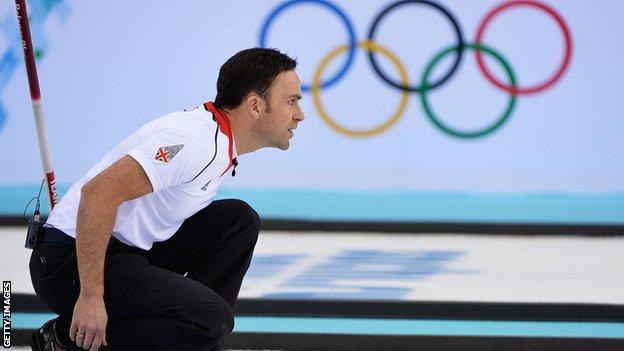 Olympic silver-medal winning curling skip David Murdoch has announced that he intends to compete again at Pyeongchang in 2018.
The 36-year-old from Lockerbie hopes to go one better in four year's time.
"After having time to reflect on Sochi and the last four years, I have realised that I want to dedicate myself to another Olympic cycle," he said.
"I have great form, my body still wants to train hard. I love this sport and I have the drive to achieve even more."
Murdoch is a two-time world champion and three-time European Championship winner, but Olympic gold has eluded him in three attempts.
Team GB reached the final in Sochi in February but lost out 9-3 to a dominant Canada rink.
"As an athlete and person, I need challenges and goals and, for me, the thought of being part of a fourth Winter Olympics is a huge incentive," added Murdoch.
"After winning the silver medal in Sochi, I want to add to that tally."
Meanwhile, Tom Brewster, who was part of Murdoch's silver-winning squad, has also vowed to continue playing to the next Olympics.
"I would never swap my experience as 5th man in the team, however, I still have a hunger and desire to compete and succeed - driven by my life-long goal of competing on ice as an Olympian," he said.
"I'm injury free and physically in the best shape I have been in for years."