Olympic champion Lizzy Yarnold on life after Sochi

By Lizzy Yarnold
Olympic skeleton champion
Last updated on .From the section Winter Sports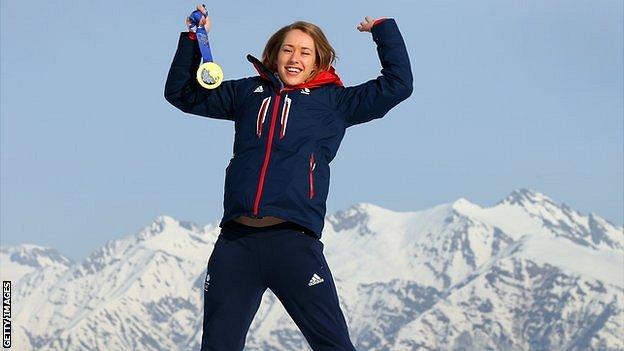 The early part of 2014 was all about the Winter Olympics in Sochi.
And on 14 February I achieved my dream of winning gold in skeleton at the Sanki Sliding Centre. It was the culmination of five years' hard work and sacrifice.
My boyfriend James was one of the first to congratulate me and I remember him saying "Well done, it's going to go crazy now".
I didn't believe him at the time but what a life-changing few months it has been.
There have been so many highlights but if I had to name a few it would be my open-top bus tour around Sevenoaks where thousands of well-wishers came out to cheer me and my gold medal.
There have also been appearances on The Alan Titchmarsh Show, A Question of Sport, The Jonathan Ross Show and Sports Relief.
Most recently I did a 10,000ft skydive for charity with my sisters, which was a great opportunity for me to give back, and considering my day job is travelling down an icy track at 90mph, I found this just as thrilling.
It's a struggle to keep up with the hundreds of school visit requests and offers to open churches, fetes, sandwich shop extensions (I was quite upset that I couldn't make that one!) and many, many more.
One particularly emotional moment was appearing on Blue Peter's last show of the series. I was given a Blue Peter badge beforehand to wear, however during the live filming they awarded me the very rare Gold Blue Peter badge. I was so shocked and overwhelmed I was unable to speak.
Being recognised in unexpected places is something I doubt I'll get used to and I experienced that feeling on a well-earned holiday to the other side of the world after the Games.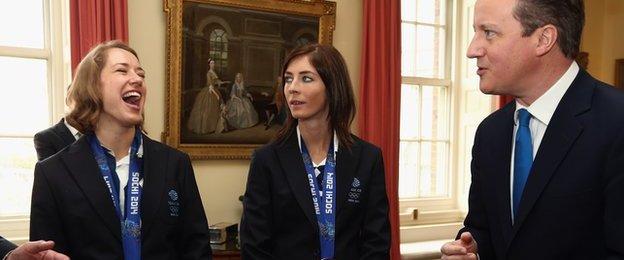 I had just arrived in Christchurch and a guy ran after me to ask whether I was Lizzy Yarnold. I'd gone all the way to New Zealand and someone still recognised me - it was mindboggling.
When people I've never met run to tell me they cried when I won in Sochi, and they've caught me on a good day when I've got my medal with me, seeing their face reminds me of exactly how I felt when I first got my hands on the medal.
Although I've enjoyed all that my medal success has brought, I was surprised by the desire to get back to strength and conditioning training as soon as I returned to England.
I've not suffered with post-Olympic blues or a lack in things that I want to achieve, I am an athlete through and through and the track is where I belong.
So, it's now about building up to the next goal.
It's a long four years until the next Winter Olympics in Pyeongchang in South Korea. Four years of working and wanting, courting the dream of gold. What's next for me is getting back on to the World Cup circuit and sliding faster than I ever have before.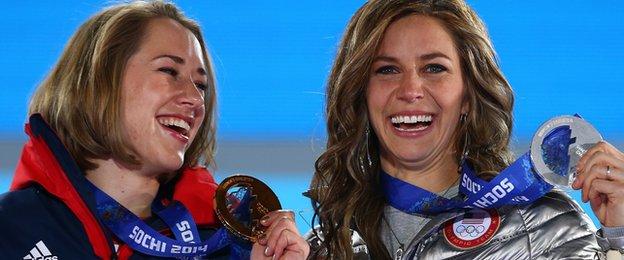 I've had many great rivals over the past few years, but one in particular has stood out more than most. American Noelle Pikus-Pace and I battled for the whole of the last World Cup season.
At the Christmas half-time break, I was still unsure of whether I had a shot of claiming the overall World Cup title but in the end I saw Noelle off with a record seven podium finishes out of eight races in the World Cup, including four wins.
I then beat her again in Sochi by almost a second, which the largest lead in any Olympic skeleton final. Noelle has now retired, as a mother-of two-and soon to be published writer, I'm sure she's got lots of exciting things ahead of her, hopefully enough to keep her away from the skeleton track for a while!
Looking to this year's competition season, I estimate my main competition to be Sarah Reid, Katie Uhlaender, British team-mate Shelley Rudman and Janine Flock. They've all got their favourite tracks, particular techniques, and mechanical advances that will all count towards their motivation, not to mention years of racing against the number one who they've got their eyes on - me!
I have the Olympic gold, and more importantly I won the overall World Cup. I have achieved the ultimate, except being world champion. The World Championships, which are being held at Winterberg in Germany next March, are my next goal.
For now, I need to keep doing what I love and competing as a British athlete. Valentine's day 2014 holds the fondest of memories for me, and I can't wait until next year!